The International Photographers Bringing Aztec Culture Vividly To Life
The International Photographers Bringing Aztec Culture Vividly To Life
In the hippie Mexican beach town of Sayulita, a partnership has been forged between the local Azteca community and photographers JP Stones and Brei Barron. The result is a series of cinematic photos depicting a cultural movement thriving beneath the surface of Mexico's everyday life.
Mexico has a deep and fascinating history. None more fascinating than the Aztecs meteoric rise to empire, and equally spectacular fall. Many Aztec traditions and ceremonies held such a vital place within Mexican culture that they have survived over 600 years through to today.
But the pressures of an increasingly urbanised Mexico are forcing these traditions underground.
"Apart from dancers that can be found performing during festivals, this incredible culture remains hidden to most visitors." said JP Stones "We wanted to showcase this rich cultural heritage in historically fitting locations. Away from the cities and its modern distractions, and into the wild expanses of nature that still cover much of Mexico".
The collection of photos, set in the jungle and along the pacific coastline, is a reminder of the power and wisdom that these ancient cultures maintain generation on generation.
The reception has been so positive that the duo have started hosting photography workshops where travellers can meet members of the local Aztec community and take part in a professional photo shoot.
"We hope these unique workshops will overcome cultural and linguistic barriers. Its an opportunity to see some of the true essence and spirit of Mexico." Said Brei Barron.
For more information or to reserve a place, visit www.jpstonesphotography.com or follow the story on Facebook https://www.facebook.com/jp.stones.photography/
Aztec Emerges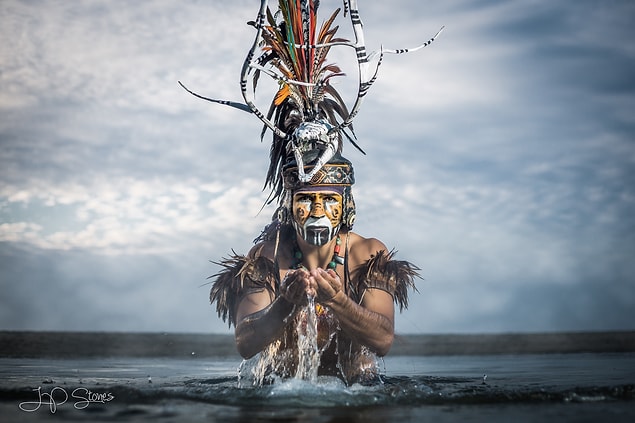 Aztec Sunset