'A Call to Spy' (2020) – A Biopic of a Spy Recruiter for Churchill's Secret Army – Netflix's Release Date and Other Details
News
>
'A Call to Spy' (2020) – A Biopic of a Spy Recruiter for Churchill's Secret Army – Netflix's Release Date and Other Details
A cunning spy recruiter, Vera Atkins, recruits two distinctive women for Churchill's secret army. While engaged in risky operations to change the course of the war, these civilian women forge an odd sisterhood.
This 2019 American historical drama film is written and produced by Sarah Megan Thomas and Lydia Dean Pilcher and is based on the true accounts of three women who served as spies during World War II.
'A Call to Spy' Release Date
'A Call to Spy' is set to release on Netflix on Friday, July 1st, 2022.
'A Call to Spy' Trailer
The trailer of the historical drama film 'A Call to Spy' is available on Youtube and Netflix. The trailer can also be watched below:
'A Call to Spy' Plot
Churchill instructs his new spy organization, the Special Operations Executive (SOE), to seek for and train female spies during the start of World War II as Britain grows more desperate. Their challenging task was to carry out sabotage and create a resistance. Vera Atkins (Stana Katic), the 'spymistress' of SOE, selects two unique candidates: Noor Inayat Khan (Radhika Atpe), a Muslim pacifist, and Virginia Hall (Sarah Megan Thomas), a driven American with a wooden leg. Together, these women contribute to overthrowing the Nazi government in France and leave a distinctly identifiable legacy.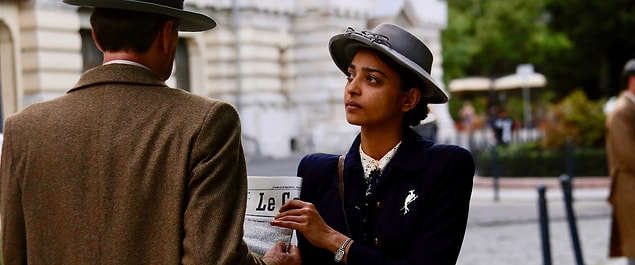 'A Call to Spy' Cast
Below are the cast members of the historical film 'A Call to Spy':
Sarah Megan Thomas as Virginia Hall

Stana Katic as Vera Atkins

Radhika Apte as Noor Inayat Khan

Linus Roache as Maurice Buckmaster

Rossif Sutherland as Dr. Chevain

Samuel Roukin as Christopher

Andrew Richardson as Alfonse

Laila Robins as Pirani

Marc Rissmann as Klaus Barbie

Mathilde Ollivier as Giselle

Joe Doyle as Father Robert Alesch
Thrilled for the coming of  'A Call to Spy' on Netflix? Tell us what you think in the comment section below!