What is True and What is Fiction About Marilyn Monroe's Life in 'Blonde'
More reviews about the biopic film Blonde have been pouring in since its debut on Netflix on Wednesday, September 28 2022. 
Some critics and fans are pleased with the film's delivery, while others are utterly disappointed. However, one will stand the test of time, and that is Ana de Armas' memorable acting and depiction of the blond bombshell Marilyn Monroe.
What Goes on in 'Blonde'?
Based on Joyce Carol Oates' Novel of the same name published in 2000, the biographical film features the life and career of Norma Jeane aka, Marilyn Monroe. 
The movie runs for almost three hours, with alternating shots of black and white and color. 
Blonde emphasises the stars' dark childhood, with an abusive and mentally unstable mother and a father void that spills into her adult life. 
It also questions the exploitation of women in the film and entertainment industry and the factors that culminated in Monroe's death. 
A large portion of Norma Jeane's early life pre-Hollywood is omitted from the film, including her experience in foster homes and orphanages and her first marriage to James Dougherty, whom she divorced before journeying to Hollywood to become the platinum-hair colored Marilyn Monroe. 
There is also a time jump from 1959 when Marilyn starred in the film Some Like It Hot to 1962 when her life was further spiraling. So Blonde didn't address Marilyn's career decline and personal difficulties, including her divorce from her second husband, Arthur Miller.
Who Stars in 'Blonde'?
The Cuban-Spanish actress Ada de Armas nailed her performance as Monroe, while Lily Fisher played young Norma Jeane. 
Other stars who gave amazing performances include Julianne Nicholson as Gladys Pearl Baker, Norma Jeane's mentally ill mother, Bobby Cannavale as Joe DiMaggio, Mariyln's second husband, Adrien Brody as Arthur Miller, Marilyn's third husband, Sara Paxton as Miss Flynn, Ryan Vincent as Uncle Clive, Evan Williams as Eddy Robinson Jr., Xavier Samuel as Cass Chaplin and Caspar Phillipson as President John Kennedy.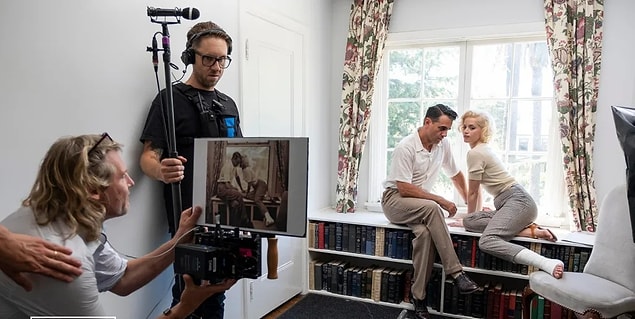 How Much of 'Blonde' is Based on True Facts?
The movie's director Andrew Dominik said he did as much research as possible prior to making the biopic but decided to use a little of it in the movie. 
Blonde is a fictionalized story of the star that propels a sapping Hollywood experience. The plot is narrated in a galling uncanny manner as it dives into Monroe's innate feelings before her death in 1962. 
"I know a lot about Marilyn Monroe. There are over a thousand books about her and though I haven't read all of them, I've gone through the big hits. I've also read all the biographies of the people that were in Monroe's life, and I can tell what they thought happened in most of her life situations. Additionally, I have been to most of the places where Monroe lived,' Dominik told Deadline. 
"While past films about Marilyn Monroe are upbeat with lots of singing and music, I wanted to take a closer look at what she actually experienced. And her final days were callous."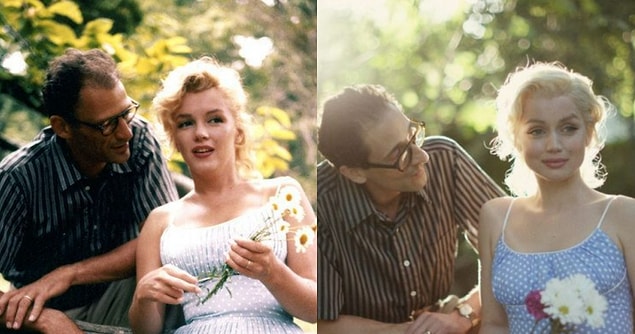 Monroe's Reluctant Abortion
Documentaries on Marilyn Monroe speculate that she may have had several abortions in her life. Blonde brings out her first abortion incident where Monroe is reluctant through a crude scene that almost seems like a nightmare. 
While the actress is initially overjoyed by her pregnancy, she makes a hard decision to abort because she's afraid that she'll inherit her mother's schizophrenic traits and history would repeat itself.
Throughout the movie, Monroe is haunted by her decision and experiences nostalgic baby cries, particularly during her pregnancy with Arthur Miller. 
At one point, she has a conversation with her unborn baby, where the foetus asks her why she decided to get rid of it. Monroe replies that the first scenario was different and that she wouldn't make the same choice. Unfortunately, she suffers a miscarriage. In reality, Monroe had multiple pregnancy losses during her marriage to Miller. 
The movie also hints at another pregnancy and possibly an abortion while Marilyn was romantically involved with the 35th President, JFK. Her frightful last visit saw Kennedy imposing a blow job on her before possibly drugging and defiling her. 
Horrid visions begin to unfold, with private investigators stalking her home and a similar ordeal to her last abortion appointment as the President's pimp eerily watched her. She then wakes up, too hazed to realize that she was drenched in blood, and so was her bed.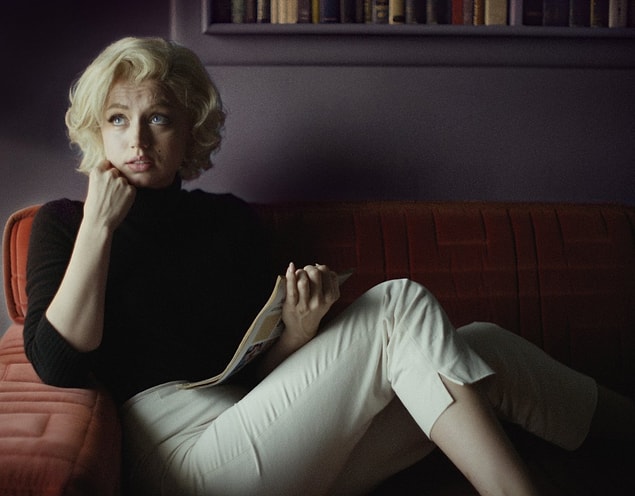 Monroe's Polyamorous Relationship
In the film, Monroe engages in a cavalier three-way affair with Charlie "Cass" Chaplin Jr. and Edward "Eddy" G. Robinson Jr. she even gets a bun in the oven by one of them. This questions Eddy and Cass's sexuality. However, the throuple relationship was never verified in real life. 
Rumor has it that Monroe was intimately involved with Chaplin Jr. in 1947, but the affair allegedly ended with Charlie discovering that Marilyn was also sleeping with his brother Sydney. 
Anthony Summer, who wrote the book Goddess: The Secret Lives of Marilyn Monroe, mentions the affair. Chaplin also talks of the relationship in his 1960 autobiography.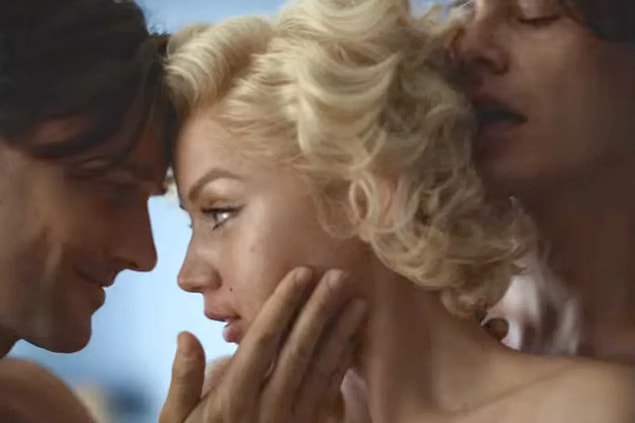 Monroe's Exploitation by the President
No denying that the forced oral sex scenario by JFK was difficult to watch, and so was the next scene thereafter where Marylin was dragged out of his room. It victimized Marilyn, making it seem like she was assaulted and coerced to have an affair with him. But was Monroe compelled into a romantic entanglement with the president or did she do it willingly?
De Armas told Variety that the movie narrated the whole experience from Marilyn's point of view. 'I'm making the audience feel what she felt. Sex scenes like the one with Kennedy were hard for everybody, but I knew I had to go there to uncover the truth.'
So, while Monroe might not have been abused, she felt like a victim of the consequences of her actions. 
In reality, Monroe did have romantic affairs with President John F. Kennedy and later with his younger brother Robert F. Kennedy. Some rumors indicate that her involvement with the giant political figures resulted in her premature demise, but that has never been proven.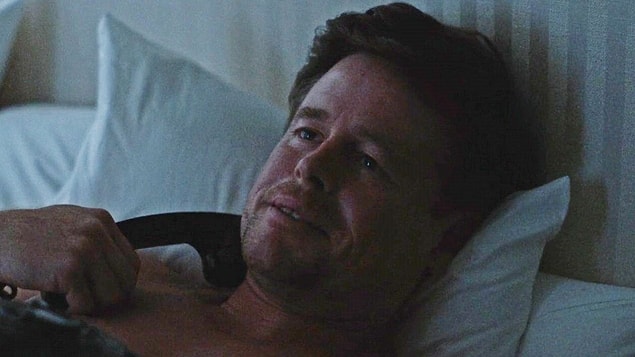 Monroe's Father
Blonde heavily emphasizes Monroe's thirst for her father and how she fills that void with her husbands' presence, stipulated by calling DiMaggio and Miller 'daddy'. 
It's unclear whether Monroe ever met with her father face-to-face, but there were backdrop letters in several scenes. 
The movie begins with Norma Jeane's mother giving her a framed picture of a man she claims is her father. Marilyn envisions the same photo of her father as she was dying in the last scene. 
Just like in the film, Marilyn's father's identity has remained a mystery. Gladys once told her daughter that her father was one of her superiors at RKO Studios. Report has it that Gladys also showed Marilyn a framed photo of the said father.
Charles Stanley Gifford, Glady's boss, has always been assumed to be Marilyn's father, though the speculations remained uncertain until this year. A scientist conducted a DNA test on a strand of Marilyn's hair and a cheek swab from one of Gifford's great-grandchildren and found that they matched, proving that Charles' was indeed her biological father.
Charles Casillo, who wrote the book Marilyn Monroe: The Private Life of a Public Icon, indicated that Marilyn managed to locate Charles Stanley Gifford. However, Gifford wanted nothing to do with Marilyn when she told him who she was. He responded, 'I'm married, and I have a family. I don't have anything to say to you. Call my lawyer.'
Gifford's rejection broke Monroe's heart and drove her on a quest for love and approval.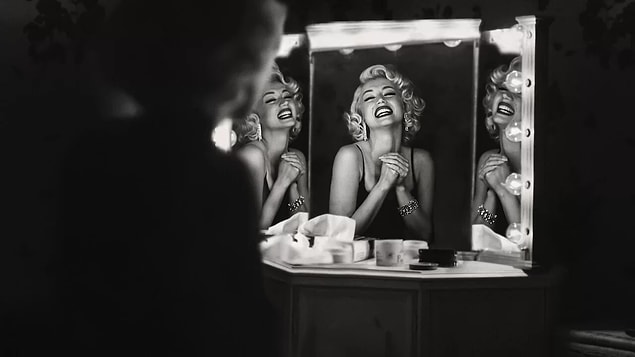 Monroe's Death
The movie highlights the upsetting events in Monroe's life just before her death. She was thoroughly mangled and couldn't function without booze and anti-depressants. 
In Blonde, Monroe dies on her bed in her Los Angeles home, which is true. However, in real life, Marilyn was discovered lying face down with a telephone in one hand, while in the movie she dies facing up.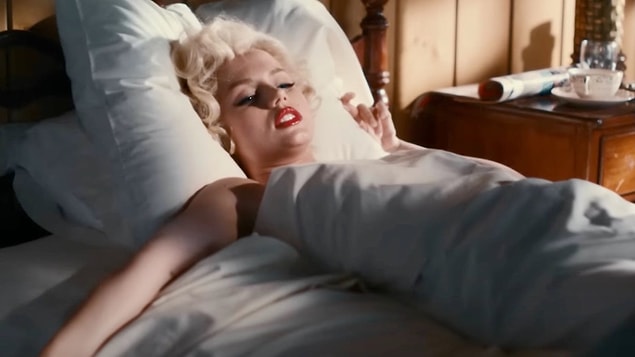 'Blonde' has Received Mixed Critic Feedback
While de Armas' intriguing depiction of the icon has been highly praised, Dominik's arduous take on Marilyn Monroe's life demarcated critics. Some critics found the twisting plot refreshing, while others thought it was brutalizing and degrading. 
The overall critic review reads, "Blonde can be hard to watch as it teeters between commenting on exploitation and contributing to it, but Ana de Armas' luminous performance makes it difficult to look away." 
Ann Hornaday from Washington Post cites, "Reductive, ghoulish and surpassingly boring, "Blonde" might have invented a new cinematic genre: necro-fiction."
Adam Graham from Detroit News gave Blonde a B rating, saying, 'a horrifying indictment of fame, men and the American Dream itself. It's a tough watch and is equally tough to shake.'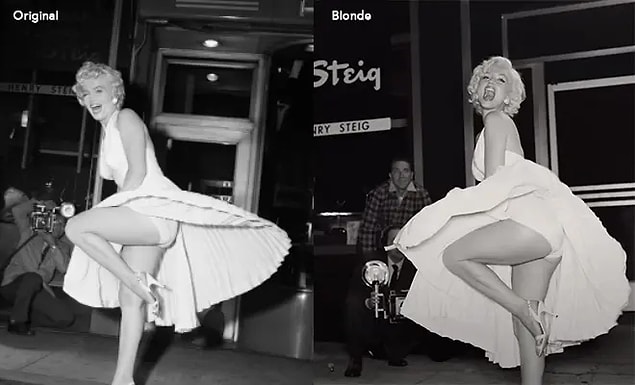 The audience is equally polarized by the movie, with some pouring in praise while others bash the director's dehumanizing representation of Marilyn Monroe's life. 
'The movie portrayed the real face of Hollywood and how young actresses were exploited and badly treated by the industry bosses and the media. The President's Kenney scene asking her for sexual favours raises questions about her death,' commented one viewer, giving a 5-star review on Google Ratings. 
Another viewer who awarded the movie 1-star said, "I wish I could give 0 stars. Ana de Armas acting is amazing, but this movie seems to have been written, produced and directed by a psychopath.'
In general, Blonde scores 6/10 on IMDb, 49% on Rotten Tomatoes, 51% on Metacritic and 63% on Google Ratings.