'Jojo's Bizarre Adventure Stone Ocean Part 3' Coming To Netflix
News
>
'Jojo's Bizarre Adventure Stone Ocean Part 3' Coming To Netflix
The highly anticipated third and final part of Stone Ocean coming to Netflix this December 2022!
Jojo's Bizzare Adventure Stone Ocean Release Dates
The first episode of the anime series was released on October 6, 2012, until this year in 2022. In 2021, the first part of the Stone Ocean was released. It was full of amazing scenes that held up a lot and an interesting plot from day one. Part 2 of Stone Ocean was released in August 2022 on Netflix and consists of 12 episodes. Part 3 of Stone Ocean is set to spark on December 2022. A lot of fans are wondering where the series will head after the final part ends.
What to Expect from Stone Ocean Part 3
Stone Ocean Part 3 will be covered from when Jolyne and her circle leave the prison up to the epilogue. Unfortunately, there's been no announcements made about when or if Steel Ball Run will get an anime adaptation, but fans have a gut feeling that this will have an anime adaptation in mid-2024. However, fans are not happy with how Netflix handled JoJo's Bizarre Adventure series because even though the series is widely known by everyone, Netflix did a poor job advertising it or making fans feel satisfaction from their adaptation. Some say they want to see it to Crunchy Roll next time and just have a weekly release.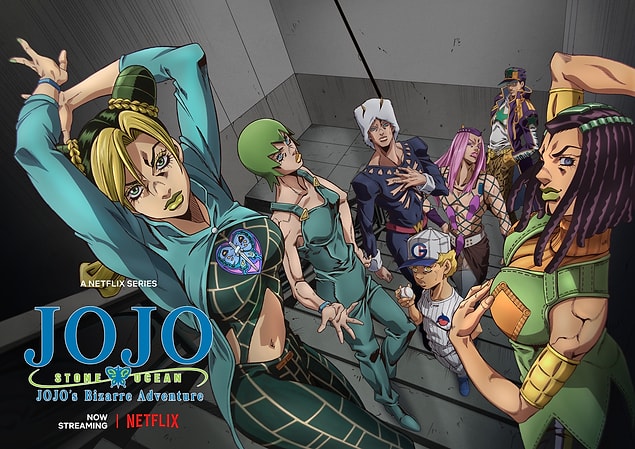 When and Where to Watch Stone Ocean Part 3?
The complete and official announcement by Netflix isn't up on the internet yet, but there's a rumor that JoJo's Bizarre Adventure: Stone Ocean Part 3 is coming to Netflix on the 1st of December 2022. Episodes of JoJo's Bizarre Adventure: Stone Ocean Part 3 will be aired on Tokyo MX, BS11, MBS, and Animax. But, don't worry if you're an international fan of the series, because it'll still be released on Netflix
WILL JOJO'S BIZARRE ADVENTURE: STONE OCEAN PART 3 BE THE LAST?
There was a chance that the adaptation might have lasted longer than 38 episodes because it had 158 manga chapters, which was the second-highest number. The planned home media release of the series confirms a total of 38 episodes. But one thing is for sure, we have until 2023 to enjoy more of Stone Ocean.
Stone Ocean Part 3 Characters
Jolyne Cujoh will be the lead character in JoJo's Bizarre Adventure: Stone Ocean. She is also the main character of Stardust Crusaders, the third arc of the said anime series. Robert E. O. Speedwagon, Bruno Bucciarati, Ermes Costello, Gyro Zeppeli, Merlai Anne, will join the action, and many more to mention.
What Studio will produce Stone Ocean Part 3?
There's still no official announcement regarding the production studio that will handle Part 3 of Jojo's Bizarre, but fans are guessing that David Production will still handle Part 3, because David Production is the one responsible for the previous Jojo's Bizarre Adventure anime adaptations.
JoJo's Bizarre Adventure: STONE OCEAN | Official Trailer 3 | Netflix