News
Grant Dustin (The Flash) Stars On This Feel-Good Movie 'Rescued by Ruby' Which Will Hit Netflix On March
Grant Dustin (The Flash) Stars On This Feel-Good Movie 'Rescued by Ruby' Which Will Hit Netflix On March
Grant Dustin (The Flash) stars as a state trooper in this feel-good movie based on a true story that sees him desperately trying to get into the K-9 search and rescue unit.
When is 'Rescued by Ruby' Release Date?
'Rescued by Ruby' release date is on March 17th 2022 on Netflix global. The giant streaming platform has also dropped the trailer of the said film and we made it available for you right here.
Rescued By Ruby starring Grant Gustin | Official Trailer | Netflix
What is the story behind 'Rescued by Ruby'?
The film is based on the true story of Ruby, a Border Collie/Australian Shepherd mix, and Dan O'Neil, a K9 search and rescue team hopeful.
The pup was judged unadoptable and due to be put down after several attempts to find her a home, when a volunteer trainer named Pat Inman believed the dog was bright beneath all that belligerence and hoped that special attention and discipline would save her life.
Officer Dan O'Neil of the Rhode Island State Police took her in after she phoned them. It was Dan's greatest opportunity at landing his ideal job. The pup evolved into a faithful K-9 partner after a lot of patience and hard work.
Ruby discovered an injured missing boy in the ravine on her seventh year on the unit, who turned out to be Pat's son, the dog shelter volunteer who had saved his life.
Netflix provided the following synopsis as part of the unveiling of their 2022 movie slate:
"State trooper Dan (Grant Gustin) dreams of joining the K-9 Search & Rescue team, but no one will give him the chance.
Shelter dog Ruby dreams of having a home, but is running out of hope. When fate brings Dan and Ruby together, it's their unshakable bond that helps them face their toughest challenge yet."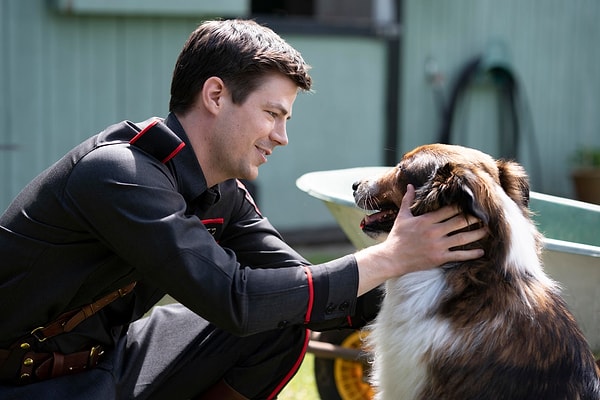 Who are the people behind 'Rescued by Ruby'?
Katt Shea, a Sundance Grand Jury Prize nominee best known for her Nancy Drew and the Hidden Staircase and Poison Ivy films, will direct Rescued by Ruby, with Karen Janszen writing the script, which is based on two short stories by Squire Rushnell and Louise DuArt, who will also act as producers. Dan Angel of Fezziwig Studios will join them (Door to Door, A Godwink Christmas).
Let us know your thoughts about this heart-warming movie 'Rescued by Ruby' by dropping comments below.
Scroll Down for Comments and Reactions