News
Vampire Series 'First Kill' Premieres on Netflix in June – Release Date and What We Know So Far
Vampire Series 'First Kill' Premieres on Netflix in June – Release Date and What We Know So Far
'First Kill' is a new horror mystery series about a teenage vampire falling in love with a vampire hunter. The series is based on V.E. Schwab's New York Times bestselling short story in Vampires Never Get Old: Tales With Fresh Bite. 
According to Deadline, showrunner Felicia D. Henderson and Schwab have signed on as executive producers with Emma Roberts and Karah Preiss through Belletrist Productions.
Release Date
Netflix's eight-part series 'First Kill' will be dropping on Friday, June 10.
Trailer
Netflix just released a trailer for the film 'First Kill' on May 12. Check it out below.
Storyline
When it comes time for Juliette, a young vampire, to perform her first kill in order to join her powerful vampire family, she sets her sights on Calliope, the new girl in town. But things are about to get tricky when Juliette learns that Calliope is a vampire hunter from a long line of illustrious slayers and is on a mission to kill her first vampire in order to join her family's hunt. Both discover that their goals and objectives are far from straightforward — and far too easy to fall for.
Juliette Fairmont, played by Sarah Catherine Hook, comes out as a quiet, gentle girl who was born a vampire and is determined to avoid becoming a monster. Will her desire for genuine love jeopardize her family's legacy?
Calliope 'Cal' Burns, played by Imani Lewis, is a brave, unyielding monster hunter whose tough façade cracks when she is pulled between familial duty and the promise of romance.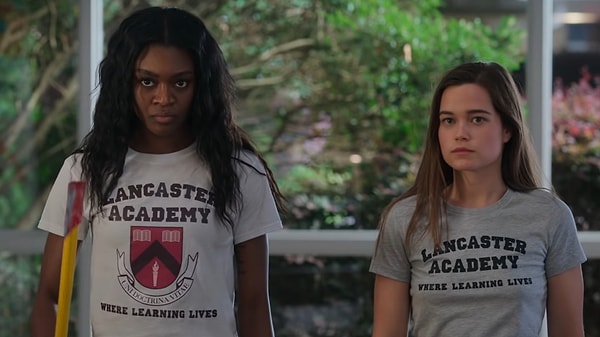 Cast
The series cast its two leads, new vampire Juliette (Sarah Catherine Hook) and young hunter Calliope (Imani Lewis). They are joined by Elizabeth Mitchell, Will Swenson, Aubion Wise, Jason Robert Moore, Gracie Dzienny, Dylan McNamara, Dominic Goodman, Phillip Mullings Jr., MK xyz, Jonas Dylan Allen and Roberto Mendez.
Are you excited for the arrival of 'First Kill' on Netflix? Let us know your thoughts in the comment section below.
Scroll Down for Comments and Reactions