News
Satan-Themed Hard Rock Band Ghost Turns In One Of Their Best, Most '80s-Reverent Albums With 'IMPERA'
Satan-Themed Hard Rock Band Ghost Turns In One Of Their Best, Most '80s-Reverent Albums With 'IMPERA'
With the release of the single 'Call Me Little Sunshine' (catch the sunshine=lucifer connection?), Ghost re-announced their presence on the path to album #5. IMPERA began life with this classic Ghost single, but when the full album came out, it revealed itself as so much more. Balancing their commercial '80s pop-metal nostalgia appeal with a unique freshness, IMPERA is unquestionably the best that the hard rock world will see in 2022.
History of Sweden's Wildest Rock Band
Ghost is the brainchild of Tobias Forge, though it was years before the masses knew the identity of anyone involved. When the group began in 2010, they were completely anonymous. To this day, all the bandmembers wear masks and full-body costumes, and Forge, performing as the lead singer during live shows, has the craziest get-up of all. He has always played a character that is a servant of Lucifer, starting as a demonic pope Papa Emeritus, and in addition to his costume, he wears a flesh mask painted with black and white skull makeup to hide his identity. Even with Forge unofficially outed as the band's sole concurring member, he continues the charade with new characters and looks every tour.
The Verdict on 'IMPERA'
IMPERA's first official track 'Kaisarion' gives the audience the main concept behind the record, and then Ghost never lets up from there. Not only is the sound culled from catchy '80s rockers like Def Leppard and Alice Cooper, but this time they have a more relevant conceptual backing regarding dictatorships and powerful evils. The full transformation is shown in standout tracks like 'Spillways,' 'Watcher in the Sky,' and 'Darkness At The Heart Of My Love,' which all showcase the pristine sound of every guitar and vocal harmony; with IMPERA, Forge shows he is clearly in full control of his craft. 
Rating: 9/10
★★★★★★★★★☆
Tracklist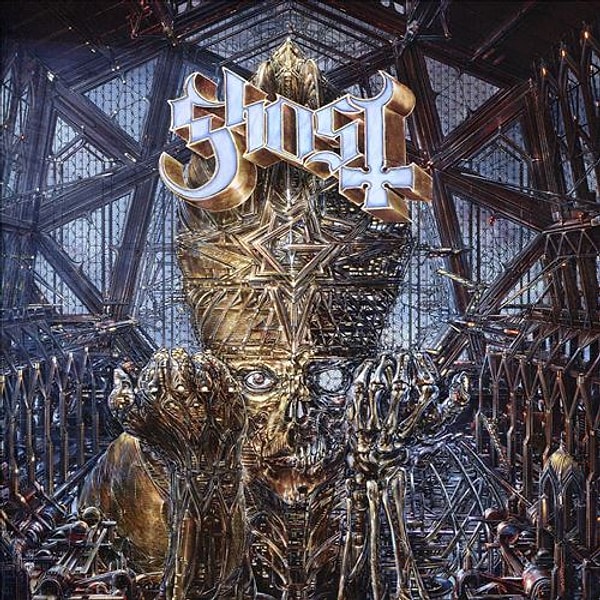 Scroll Down for Comments and Reactions