Ninja Thyberg's 'Pleasure' Tries To Give A Hard, Honest Look At The Porn Industry
News
>
Ninja Thyberg's 'Pleasure' Tries To Give A Hard, Honest Look At The Porn Industry
If you keep track of edgy, arthouse movies released by distribution companies like A24, you probably heard some minor hype around the film Pleasure. This extremely explicit film is centered on the porn industry and has been equally condemned for its graphic content as well as celebrated for its unflinching look into a controversial subject. Ultimately, is Pleasure an arty exploitation piece, or a genuinely well-made tightrope walk into difficult territory? Find out below!
Plot of 'Pleasure'
A Swedish woman, aspiring to become a porn star, agrees to do some intensely degrading actions in service of her potential career.
Cast
Sofia Kappel

Evelyn Claire

Dana DeArmond

Mark Spiegler

Aiden Starr

Axel Braun

Chanel Preston

Casey Calvert

Abella Danger

Gina Valentina
What Critics Say About 'Pleasure'
Pleasure is an intense drama that is not an easy, casual experience for almost any viewer. Thankfully, it's not just for the sake of provocation. The film has a meaningful purpose far beyond its pornographic trappings, striving to reveal a side of the entertainment world that we don't often get to see. Unknown actress Sofia Kappel grounds the story of the dangers of fame, and a realistic environment created by actual porn performers further makes things officially authentic. Writer/director Ninja Thyberg's cinematic flourishes create a grim atmosphere that, depending on your opinion on the film's apparent authenticity, can take one out of the movie a bit, but overall, Pleasure is a daring film that will give you a guaranteed shock.
Rating: 7/10
★★★★★★★☆☆☆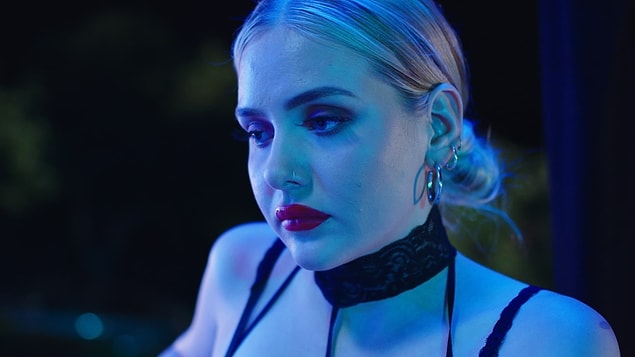 Where to Watch 'Pleasure'
Right now, Pleasure is only available on video on-demand, for the typical new film price of $5.99 for rental and $14.99 for digital purchase. If you think you can handle it, watch Pleasure today!