News
New Music from EarthGang, the Thrilling Dreamville Breakout Duo
New Music from EarthGang, the Thrilling Dreamville Breakout Duo
Since joining J. Cole's imprint Dreamville Records leading up to their major-label debut Mirrorland released in September 2019, the duo known as EarthGang have had a creatively fruitful time by themselves as well as collaborating with others. Since the signing, they have a trilogy of EPs released with J. Cole as executive producer, their 2019 full-length, a collaborative record with EarthGang affiliates Spillage Village and rapper JID, and inclusion on the Revenge of the Dreamers III compilation. On February 25, 2022, an older, wiser EarthGang released the album Ghetto Gods, fully establishing their sudden fame with contributions from J. Cole, JID, and Future.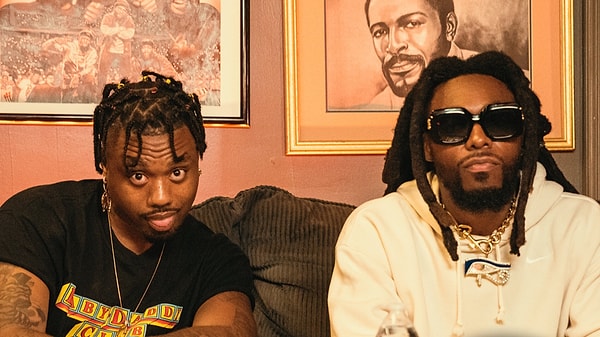 History of EarthGang
Johnny Venus and Doctur Dot, the two members of EarthGang, met in high school and then slowly incorporated more members through their college years until finalizing the Spillage Village collective. Of these members, JID, 6LACK, and Mereba also found outside success, and the group scored a J. Cole feature for an album in 2016, permanently shifting the course of their music careers. By the time the inventive Mirrorland entered the charts in 2019, EarthGang was hailed as one of the best duos of the year thanks to the assertive rapping interrupted with inflections of experimental, jazz, and soul. Continuing their development rather than stagnating, Ghetto Gods feels weighted by world-weariness but with no less coolness than before.
'Ghetto Gods' Released on February 25, 2022
With a slew of great features, the new album Ghetto Gods shows off the rapping of EarthGang as part of a collective mindset. With no individual egos to cater to, the two members balance and build up each other on every track. Best of all, they are unafraid to cut into some deep emotional spaces but still reach for fun, hard-hitting tracks like "BILLI" whenever possible. For rap fans, Ghetto Gods seems like the best of all worlds; everyone should be able to find something to enjoy in the all-encompassing sound of EarthGang.
Scroll Down for Comments and Reactions