News
Michael Caine Stars In This 2018 True Crime Movie 'King of Thieves': Arriving On Netflix In March
Michael Caine Stars In This 2018 True Crime Movie 'King of Thieves': Arriving On Netflix In March
'King of Thieves,' a 2018 real crime film starring Michael Caine and set in London's jewelry sector. The film based on the Hatton Garden safe deposit burglary of 2015,  follows a group of retired crooks who carry off a massive theft. Due to greed, what begins as their final illegal hurrah quickly turns into a horrific nightmare.
'King of Thieves' Release Date
'King of Thieves' will be streaming on Netflix on Saturday, March 26th 2022, and it's just two weeks from now so you'll not wait a long time to watch it.
'King of Thieves' Trailer
Trailers for 'King of Thieves' are out on YouTube already. You can also have a sneak peak of the trailer right here.
King of Thieves | Official Trailer
'King of Thieves' Storyline
Based on true events, a well-known thief, Brian Reader (Sir Michael Caine), gathers a ragtag group of misfit crooks to plan the largest bank heist in British history. The robbers are said to have made off with over 200 million British pounds in stolen jewelry and cash. When the cops arrive and the investigation begins, the fractures between the quirky gang members begin to appear as they argue over how to split the loot and grow increasingly resentful of one another.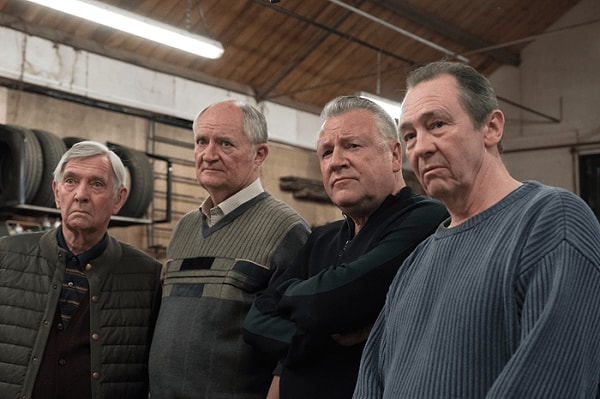 'King of Thieves' Cast And Showrunners
The film stars: 
Michael Caine as Brian Reader
Jim Broadbent as Terry Perkins
Tom Courtenay as John Kenny Collins
Charlie Cox as Basil/Michael Seed
Paul Whitehouse as Carl Wood
Michael Gambon as Billy 'The Fish' Lincoln
Ray Winstone as Danny Jones
Francesca Annis as Lynne Reader
Helmed by James Marsh, 'King of Thieves' was written for the film by Joe Penhall and produced by Tim Bevan, Eric Fellner, Ali Jaafar, and Michelle Wright.
Are you looking forward to watching the 2018 British heist film 'King of Thieves' on Netflix on March 26th? Let us know in the comment section below.
Scroll Down for Comments and Reactions