News
Is Eddie Munson Gay? Here's Our Theory
Is Eddie Munson Gay? Here's Our Theory
Since Netflix released 'Stranger Things' in 2016, the mystery/horror series has become a fan favorite. In the years and seasons that have followed, many questions have trailed the series' storyline and its characters. One of those questions surrounds Eddie Munson's sexuality on the show.
Who is Eddie Munson?
Eddie Munson is a character revealed in the fourth season of Stranger Things. The character is portrayed as an eccentric high schooler who loves music and regularly sells drugs to other students. More importantly, he is the leader of the Hellfire Club, a group of Hawkins High students who play Dungeons and Dragons. 
Eddie is introduced to Hawkins's supernatural and spooky side when he witnesses the gory death of Chrissy Cunningham. However, because Eddie is the last person to see Chrissy on the night of her death, the town immediately suspects him to be the killer and launches a search for him. Knowing that Eddie is not the killer, the series' main character get in touch with Eddie to save him from the raging town.
Chrissy Cunningham and Eddie Munson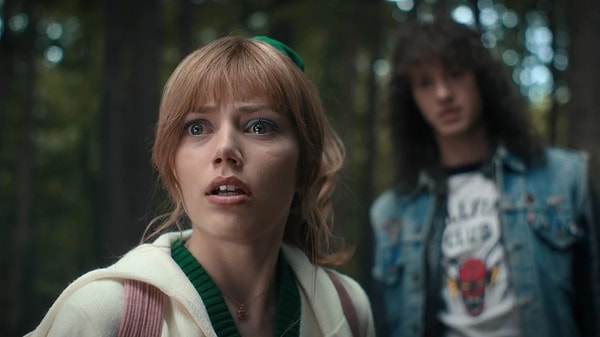 While Eddie's character has mainly received mixed reactions from fans of the show, many are curious about Eddie Munson's sexuality.
Is Eddie Munson Gay?
While Stranger Things does not clearly establish Eddie Munson's sexuality, the character's costume choice seems to suggest that he might be queer.
Like a regular high schooler into Rock and Roll, Eddie wears dark-colored clothes, ripped jeans, and skull rings. However, what draws attention is his black handkerchief. On the show, Eddie Munson's handkerchief is a staple in his outfit. He uses the handkerchief to accessorize by regularly flagging it in one of his pockets. This sequence has led to suspicions that the dressing style replicates the Hanky Code.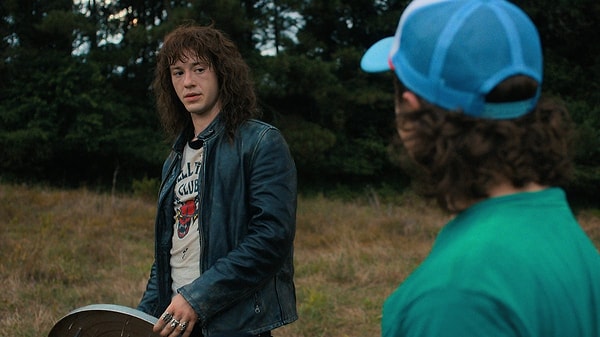 What is the Hanky Code?
The Hanky Code is also called flagging. It is a color-coded communication system adopted by queer men from the 1960s to the 1980s. It often involved placing a bandana or handkerchief in either pocket to convey a message. When the Hanky Code gained popularity, communication was limited to a few handkerchief or bandana colors. Red represented fisting, dark blue represented anal sex, light blue was used to signal oral sex, and grey was for bondage.
However, in the years that followed, the Hanky Code was expanded to more colors. It included a much more complex chart of over fifty handkerchief colors. For instance, Fushia handkerchiefs represented spanking, coral represented toe sucking, and beige represented rimming. 
With each color-coded representation, the flaggers could place the handkerchief on the right or left pocket. Flagging in the left pocket meant the flagger was a top. The right pocket meant the flagger was a bottom or submissive player.
Does the Hanky Code Mean Eddie Munson is Gay?
As stated earlier, Stranger Things has not directly confirmed Eddie Munson's sexuality. However, when the facts are put together, it all makes sense. At least to a large extent. For instance, the hanky is a regular appearance in Eddie Munson's outfit. The Hanky Code was also predominantly used in the 1980s as a form of communication. Not-so-coincidentally, Stranger Things is set in the 1980s. These facts, put together, seem to make a strong case for Eddie Munson's queerness.
However, a counter-point could be that the hanky is merely an accessory to Eddie's Rock and Roll vibe. Eddie's seeming interest in Chrissy Cunningham also seems to suggest otherwise. But again, Eddie might just be a character that swings both ways.
Other Queer Characters in Stranger Things
Eddie Munson is not the first queer character on the Stranger Things show. The show's first queer character is Robin Buckley, played by Maya Hawke. Robin is Steve's close friend on the show, and they seem to be love interests at the beginning of Season Three. However, all expectations go downhill when Robin discloses her sexuality to Steve in a mall toilet.
Robin and Steve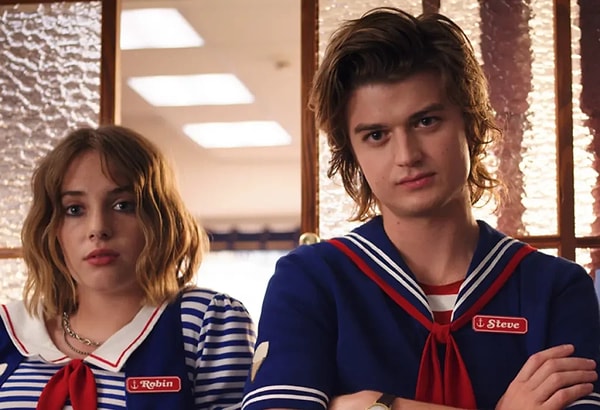 According to reports from the show's cast and crew, Robin was initially written as a straight love interest of Steve. However, in mid-production, the show decided to make Robin's character lesbian. Regardless, many members of the LGBTQ+ community praised the show's approach to Robin's sexuality reveal. For many, it was refreshing to see a show that didn't treat sexuality reveal as a dramatic coming-out scene.
Is Will Byers Gay?
Yes, Will Byers is, in fact, gay. Earlier this year, Noah Schnapp (who plays Will) confirmed Will's queerness in an interview with GQ.
Will Byers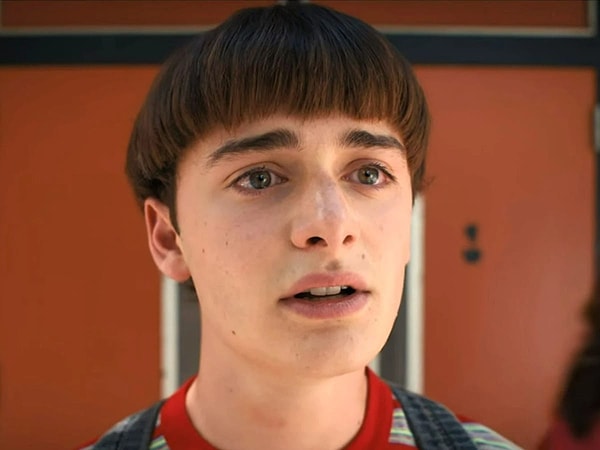 Like Eddie Munson, curiosity surrounded the sexuality of Will Byers. This curiosity increases in Season Four when Will Byers makes a gift for Mike and seemingly gets jealous when Mike focuses on Eleven. Many suspected that Will was gay and had feelings for Mike. Schnapp's recent interview seems to confirm the suspicions. 
Overall, Eddie Munson's sexuality will unfortunately always be shrouded in secrecy since he eventually dies in the show.
Scroll Down for Comments and Reactions