News
Get Ready for the Time Before Time from Apple TV+'s 'Prehistoric Planet'
Get Ready for the Time Before Time from Apple TV+'s 'Prehistoric Planet'
Apple TV+ revealed its most recent trailer of the documentary series Prehistoric Planet on Saturday, May 21, 'Tuarangisaurus Dive for Pebbles', hinting at what's to come. 
The five-night event docuseries features various types of dinosaurs and their habitats 66 million years ago, from forests to ice lands to deserts to oceans.
Prehistoric Planet debuts globally on Monday, May 23, on Apple TV+, with a new episode dropping every day through Friday, May 27.
What is 'Prehistoric Planet' About
The documentary series incorporates modern technology, palaeontology findings and the best wildlife filmmaking to showcase the inhabitants of Earth as they were in the pre-evolution days. Prehistoric Planets help viewers understand the unknown facts of dinosaur life, set in the cretaceous era.
You'll get to see heartfelt moments between a Tyrannosaurus rex and its baby, mysterious underwater habitation and sky dangers, among other things. Prehistoric Planet brings early Earth life to you as you've never seen before.
Episodes Premiere
Here's what's lined up for you in the 5-episode series:
Episode 1: "Coasts" debuting on May 23. A pregnant Tuarangisaurus and her calf are distressed as the mother desperately tries to find a way through oceans that house dangerous predators.
Episode 2: "Deserts" debuting on May 24. Male Barbaridactylus pterosaurs fight for female partners in the deserts of North Africa.
Episode 3: "Freshwater" debuting on May 25. The extremely large Deinocheirus crosses the Asian wetlands searching for relief from invading biting flies. 
Episode 4: "Ice Worlds" debuting on May 26. Ancient enemies Nanuqsaurus and Pachyrhinosaurus face each other in a thick snow-covered forest. 
Episode 5: 'Forests' debuting on May 27. A mother Triceratops and her calf journey through an underground cave in North America, but things make a turn for the worst when they are separated. 
Prehistoric Planet is executive produced by Jon Favreau, renown for his MCU productions, as well as the producers of Planet Earth.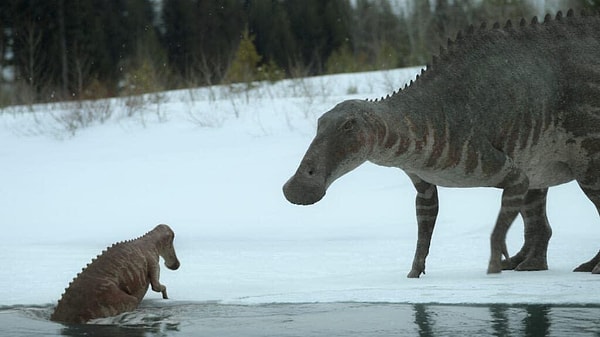 Scroll Down for Comments and Reactions