News
'Get Organized With The Home Edit' Returns Netflix For Season 2 On April 2022
'Get Organized With The Home Edit' Returns Netflix For Season 2 On April 2022
Millions of people were encouraged to organize their closets, kitchens, garages, and more with the release of 'Get Organized with The Home Edit' on Netflix in 2020.
Clea Shearer and Joanna Teplin, the hosts of the show, are both California natives who now live in Nashville, Tennessee. They founded their company in 2015 with the objective of reimagining 'conventional organizing to make it elegant and effective.'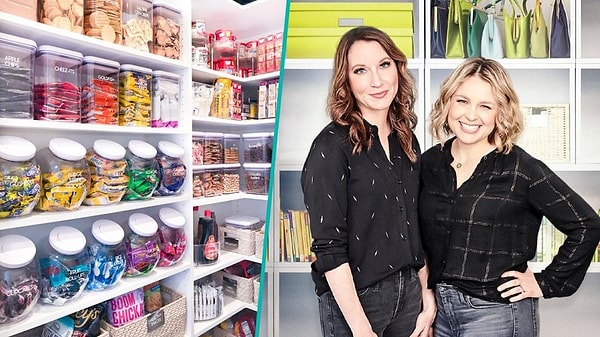 The team built a significant following on Instagram by showcasing their work, but it was a trip to Los Angeles that catapulted their business to the next level. They collaborated with a number of celebrities, including Christina Applegate and Selma Blair, to give their homes a makeover (per the New York Post).
Shearer told the Tennessean, 'They uploaded it on Instagram and it really boosted our following and just the notoriety of it.' Soon after, they added a Target collaboration, expanded into additional locations, wrote two best-selling books, and developed their own line for The Container Store, and their business exploded. But it was their eight-episode Netflix miniseries that made Shearer and Teplin famous, and fans are eagerly anticipating the second season.
When Will 'Get Organized With The Home Edit' Season 2 Be Released?
On April 1, 2022, Netflix will premiere the second season of 'Get Organized with The Home Edit.' The Home Edit's dynamic duo originally revealed the news on their combined Instagram account at the end of February.
Is There Available Trailer For 'Get Organized with The Home Edit' Season 2?
Ahead of the show's premiere, Netflix treated fans to a first look at season 2. Watch the full trailer below:
Who Will Host 'Get Organized With The Home Edit' Season 2?
Clea and Joanna will return to the show to reprise their hilarious co-hosting duties. Fans can't get enough of their clever repartee because of their tight connection.
It's a good thing Joanna didn't stick to her 'no new pals' rule. The Home Edit already has millions of Instagram followers, a successful TV show, and more exciting ventures on the horizon after only six years.
Who Are The Homeowners Of 'Get Organized with The Home Edit' Season 2?
Khloe Kardashian, Neil Patrick Harris, Eva Longoria, Reese Witherspoon (who is also an executive producer on the program) and others were among the A-list clientele in the first season. Drew Barrymore, Chris Pratt, Katherine Schwarzenegger, Kevin Hart, Kelsea Ballerini, Winnie Harlow, Danielle Brooks, Tyler Hubbard, and Topper Guild will also participate in the second season.
What Will 'Get Organized with The Home Edit' Season 2 Feature?
Each episode will include one celebrity client and one non-famous client, as in season one. This season will also provide fans with a behind-the-scenes glimpse into Shearer and Teplin's personal life as they navigate their newfound celebrity, a thriving business, motherhood, and more.
Scroll Down for Comments and Reactions