News
Everyone Seems To Agree That This New 'Star Trek' Series Is Awesome
Everyone Seems To Agree That This New 'Star Trek' Series Is Awesome
For all of the massive extensions to the Star Trek universe, it's rare to hear that one is close in every manner to the original series. The Next Generation and other subsequent shows and films managed to take new and old routes based on the first iteration of the show, but the brand new Strange New Worlds is already being hailed as one of the most thematically connected to the William Shatner and Leonard Nimoy-led version. Here are all the details for Star Trek: Strange New Worlds.
Premise of 'Strange New Worlds'
Captain Chris Pike (predecessor of James T. Kirk) leads the USS Enterprise on missions of exploration and discovery, following the original's motto to "boldly go where no one has gone before."
Cast
Anson Mount - Captain Christopher Pike

Ethan Peck - Science Officer Spock

Christina Chong - La'an Noonien-Singh (chief of security)

Rebecca Romijn - Number One

Celia Rose Gooding - Nyota Uhura

Jess Bush - Christine Chapel

Babs Olusanmokun - M'Benga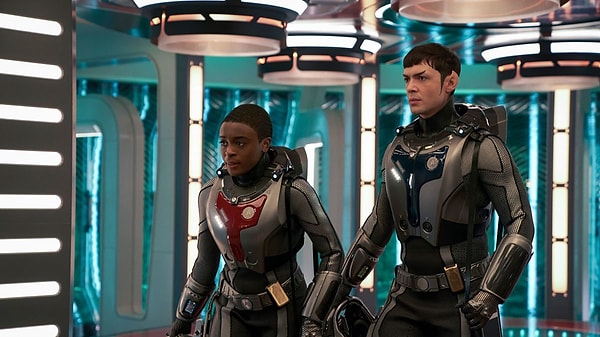 Episode 1 Rundown
Since there is only one episode out so far, here's how things shake out in the premiere. Pike, along with a cast of characters folks will surely recognize as returning or connected to the existing universe (all played by new actors, of course), go to help second-in-command officer Number One (Rebecca Romijn) out of a jam on an underdeveloped world similar to real-world Earth. This isolated adventure then sets up where the rest of the show is going. The USS Enterprise crew is solidified, and the five-year mission (directly referencing the original series as well) to explore is in effect. Critics praised this mode of episodic adventures as a welcome reversion back to the old ways since each adventure will now be viewable as a separate experience like back in the old days.
Where Can I Watch 'Strange New Worlds?'
Only one episode is currently available on Paramount Plus, with the rest releasing weekly on the streaming service. Happy watching!
Scroll Down for Comments and Reactions