News
Disney+ Obtains Teen Dramedy Series 'Find Me in Paris'
Disney+ Obtains Teen Dramedy Series 'Find Me in Paris'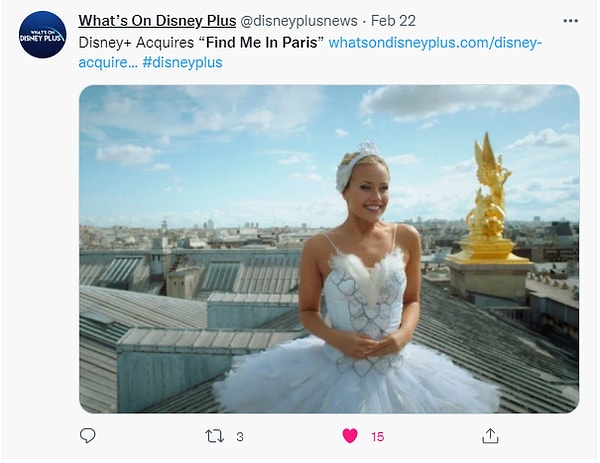 Who Produced the Series?
Cecile LAuritano, David Michel and Zoé Carrera Allaix from Cottonwood Media produced the series in collaboration with ZDF Enterprises, Be-Films and the Opera National de Paris. Jill Girling and Lori Mather created and executive produced the series together, working under executive producer Leila Smith. Rounding up the crew cast are Matt Bloom, the director and his duo team Ronan and Robert Burke.
What is Find Me in Paris About?
Find Me in Paris first debuted on April 14 2018, on Hulu, produced by Cottonwood Media and ZDF. The show's third and last season aired on August 21 2020. 
Broadcasting a young cast, Find Me in Paris is a tween series that combines first-class ballet, comedy, drama and modern dance. The story's protagonist, Lena Grisky, a ballet dancer, time travels from 1905 Russia to modern-day Paris. Trapped in the modern world, Lena is at a crossroads as she finds herself torn between two worlds.
The head of the sales team at Federation Kids & Family, Monica Levy, stated that they are proud to have sealed the deal as Find Me in Paris continues to grow its global viewership. 'Families from every part of the world can relate with the show's storyline despite their gender or nationality. Find Me in Paris is a perennial classic," Levy says.
Arne Lohmann, the junior VP at ZDF Enterprises adds, "Find Me in Paris is a fantastic mix of time travel, classical ballet, modern dance and magic, and our recent deal are proof of it. We are proud to increase its ever-growing members.'
Reviews
Find Me in Paris established loyal viewership where 94% of the audience liked it. It also obtained a whopping 5/5 score on Amazon UK and a 72% rating on IMDb.
Scroll Down for Comments and Reactions