News
'Disappearance at Clifton Hill', Canadian Thriller Starring Tuppence Middleton - Release Date and More
'Disappearance at Clifton Hill', Canadian Thriller Starring Tuppence Middleton - Release Date and More
'Disappearance at Clifton Hill' (initially known as Clifton Hill) is a 2019 Canadian thriller film, directed by Albert Shin. It follows a young woman who returns to her hometown of Niagara Falls, haunted by a troubling childhood memory, and learns the shocking details of a boy's kidnapping.
'Disappearance at Clifton Hill' Release Date
'Disappearance at Clifton Hill' will arrive on Netflix on May 29th.
'Disappearance at Clifton Hill' Trailer
We have provided a trailer of the movie here. Just click the button below.
'Disappearance at Clifton Hill' Storyline
After her mother dies, Abby (Tuppence Middleton) returns to her hometown in Niagara Falls and gets obsessed with a fragmentary recollection from her youth, a kidnapping she believes she witnessed. She reunites with her estranged younger sister, Laure (Hannah Gross), and the two try to settle their mother's estate by selling the family resort, but Abby's compulsive urge to reconcile her past grows out of hand. Albert Shin's new film is a gripping and taut psychological thriller that explores the dark underbelly of structural institutions through the eyes of its dynamic female protagonists. Middleton gives a powerful and nuanced performance as a lady consumed with her tragic history while investigating a crime she believes she was a part of. Shin and co-writer James Schultz have created a taut, thrilling drama with plenty of twists and turns, culminating in a climax that will have you thinking for days.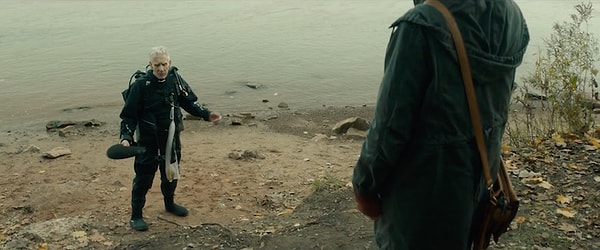 'Disappearance at Clifton Hill' Cast Ensemble
The film stars Tuppence Middleton as Abby, a young woman who returns home to Niagara Falls, Ontario, following her mother's death, she inherits a family-owned guesthouse in the city's Clifton Hill tourist zone and becomes preoccupied with reconstructing inchoate childhood recollections of witnessing a kidnapping.
The film's cast also includes Hannah Gross, Marie-Josée Croze, Andy McQueen, Noah Reid, Dan Lett, Aaron Poole, Connor Jessup, Elizabeth Saunders, and Maxwell McCabe-Lokos, as well as filmmaker David Cronenberg in a rare acting appearance as a local historian and podcaster. 
The film was nominated for four Canadian Screen Award nominations, including Best Supporting Actor for McQueen.
Are you looking forward to the thriller movie 'Disappearance at Clifton Hill' on Netflix? Please share your opinions in the comment section below.
Scroll Down for Comments and Reactions