A Present Father & Absent Mother: Who Are Lil Nas X's Parents?
News
>
A Present Father & Absent Mother: Who Are Lil Nas X's Parents?
Lil Nas X broke into stardom with the release of 'Old Town Road,' one of the greatest country hits of the decade. However, like every other star in the industry, Lil Nas X's relationship with his parents has largely contributed to who he is today. 
Here, we will discuss Lil Nas X's parents and how he navigated childhood with a present father and an absent mother.
Lil Nas X's Childhood
Born in 1999 as Montero Lamar Hill, the rapper spent most of his life in Georgia. His parents (who were together at the time) named him after the Mitsubishi Montero, one of the sturdiest cars at the time. However, Lil Nas X's parents separated when he was six. Due to the separation, he was be raised by his father, who obtained full custody.
Lil Nas X's childhood was not exactly rosy. Despite moving from the dangerous part of Atlanta to live with his dad in Georgia, the rapper has admitted that he was mostly alone during his teenage years, as he was also raised with ten siblings. To combat the solitude, he often turned to the internet and memes. Around this time, he discovered his sexuality and admittedly prayed it was a phase due to his religious upbringing.
Who are Lil Nas X's Parents?
Lil Nas X's parents are R.L Strafford and Shawnita Hathway. However, the pair were never married. They eventually seperated not long after Lil Nas X's birth. 
R.L Strafford mostly worked as a gospel singer. Interestingly, he also sang in the choir for Lil Nas X's 'Dead Right Now' song, a sign of their close relatiopship. On the flip side, Lil Nas X has a very distant relationship with his mother. According to Nas, Shawnita is an addict, and he has tried multiple times to get her into rehab, but all efforts have failed. He even opened up that his mom had been spotted begging on the streets despite his efforts to make her get better. In an interview with Variety, he also admitted that he doesn't talk about his mom because of their strained relationship.
Lil Nas X With His Dad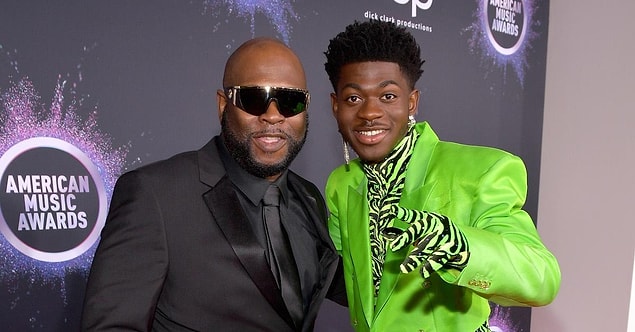 Lil Nas X's Relationship with his Father
Given that Robert Strafford worked most of his life as a gospel singer, Lil Nas X and his siblings were raised according to strict religious principles. This means that Lil Nas grew up in a family where being queer was essentially a sin. Expectedly, he struggled with coming out to his father about his sexuality. But he eventually did.
In 2020, Lil Nas X reported that he came out to his father and sister before publicly revealing his sexuality. While Robert Strafford may have struggled with the realization, Lil Nas X has admitted that the event strengthened their relationship. Lil Nas X further stated that he was relieved that he no longer had anything to hide (although he could still not bring a guy home). 
Confirming Lil Nas's report that he and his father were good, Robert Strafford recently defended Nas from anti-gay remarks by Boosie Baddazz. Late last year, Boosie repeatedly hurled gay slurs at Nas on Twitter and even went to the point of urging Nas to commit suicide. Responding to Boosie's despicable remarks, Robert Strafford immediately ordered Boosie to sit his a—down. For many, this was enough confirmation that Lil Nas and his father were on great terms.
Conclusion
In other news, Jack Harlow recently addressed rumors about a romantic relationship with Nas X. During an SNL appearance, he jokingly said: "I've heard people try to romantically link me and Lil Nas X as an item. I'm going to tell you right now. No. Everything that happened between us was casual, consensual, and one of the best nights of my life".