News
A New Amazon Original Series Is Up For Release This Friday! Everything We Know About 'Reacher'
A New Amazon Original Series Is Up For Release This Friday! Everything We Know About 'Reacher'
'Reacher' is going to be one of Amazon Prime Video's newest additions to its collection. This upcoming American crime thriller series is based on a book by Lee Child entitled Jack Reacher. 
The first season, adapting the novel Killing Floor, is set to have eight episodes. 'Reacher' is scheduled to stream on Amazon Prime Video this Friday, February 4, 2022!
Reacher - Official Trailer | Prime Video
All We Know About 'Reacher'
Jack Reacher, a former U.S. Army military-veteran policeman, wanders across the country until he gets arrested by the police. He gets entangled in a criminal conspiracy after getting arrested for a crime he didn't commit while visiting the small town of Margrave, Georgia.
The upcoming Amazon Original Series features former Blood Drive star, Alan Ritchson. Compared to Tom Cruise's version of the 2012 and 2016 Jack Reacher movies, Ritchson's portrayal is much more anticipated as the buff version of 'Reacher' is everything Tom Cruise's version wasn't.
As it is originally based on Lee Child's book, the previous Jack Reacher movies drew criticisms over Tom Cruise being casted in not only one, but two movies. Fans of the novels pointed out that Cruise's body was not built to play as Reacher. Whereas Alan Ritchson, who previously starred as Aquaman in Smallville and Hawk in Titans, definitely fit the Jack Reacher description.
'Reacher' Cast and Characters
The following are the cast and characters set for upcoming Amazon Originals 'Reacher:'
Alan Ritchson as Jack Reacher

Maxwell Jenkins as Young Reacher

Malcolm Goodwin as Oscar Finley, Margrave Police Department Chief Detective

Willa Fitzgerald as Roscoe Conklin

Chris Webster as KJ

Bruce McGill as Mayor Grover Teale

Maria Sten as Frances Neagley

Hugh Thompson as Baker

Kristin Kreuk as Charlie

Marc Bendavid as Hubble

Willie C. Carpenter as Mosley

Currie Graham as Kliner Sr.

Harvey Guillén as Jasper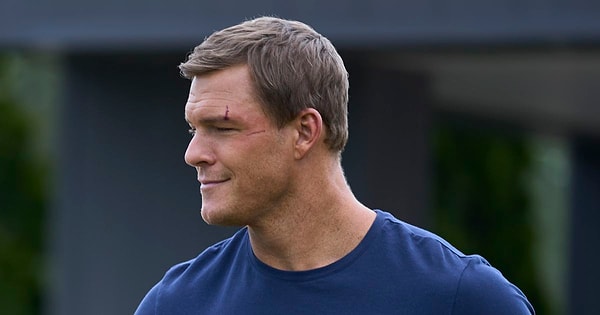 The People Behind The Series
The adaptation for a TV series of Lee Child's Jack Reacher was announced in 2019 by Amazon. Through Paramount Television and Skydance Media, Nick Santora, is set to write, showrun, and produce the series, and M. J. Bassett will be the director.
'Reacher' will be executive produced by Don Granger, Scott Sullivan, David Ellison, Dana Goldberg, Marcy Ross, and Christopher McQuarrie, and Lee Child. 
Amazon Prime Originals 'Reacher' starring Alan Ritchson is scheduled to be released on Friday, February 4.
Scroll Down for Comments and Reactions