7-Year-Old Boy Leaves Heartbreaking Letter Before His Death
The schoolboy Marshall Clark, from Plymouth in Devon, had been suffering from a rare genetic illness Late Infantile Batten Disease - a disorder that affects the nervous system.
Marshall was left bedridden for 10 months and lost vision, mobility and ability to communicate and it has emerged that the seven-year-old left a heartbreaking letter for his friend before his death; as reported in The Lad Bible.
Marshall was left bedridden for 10 months and lost his vision, mobility and ability to communicate.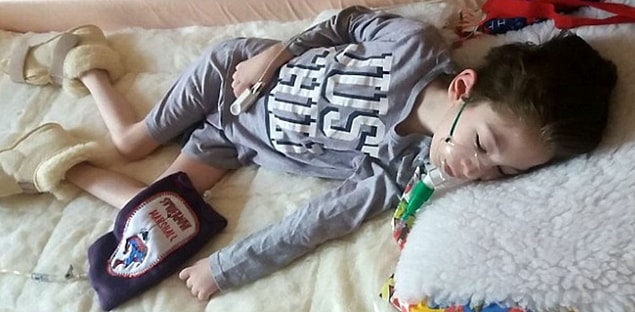 He died just days before his eighth birthday and his grieving family published his message to his loved ones through his grandmother Elsie's online blog.
She said: 'He is in heaven now. This was his hell and now he is free.'
In the letter, Marshall wrote: 'It's okay because nana has told me all about it (heaven) and about all the wonderful things I will be able to do when I am there.'
Marshall was diagnosed with the condition in September 2013, becoming one of only 24 children in the UK to suffer from the disease.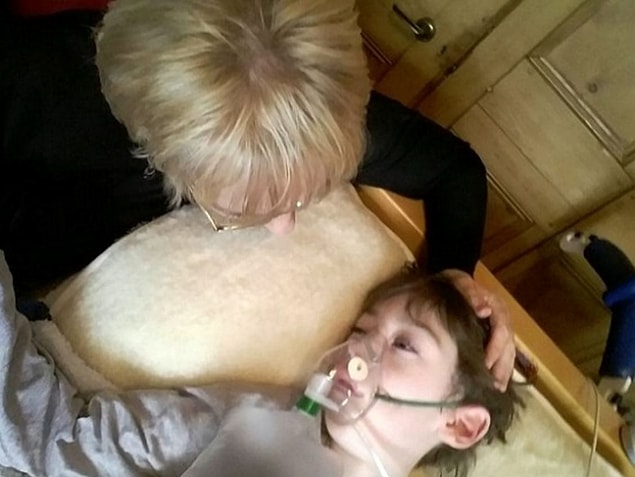 He suffered night terrors, uncontrollable seizures, and tremors which meant he couldn't feed himself.
As his condition continued to deteriorate, trained nurse Elsie - who cared for little Marshall at her home - said he would involuntarily fall to the floor up to 40 times a day.
But she said he never cried, never complained and never gave up. She added: 'His determination and his happiness throughout it all has just amazed me.'
'When he lost the ability to walk, he learned to crawl. When he struggled to feed himself using a knife and fork, he swapped his cutlery for two forks and would eat one mouthful at a time. And even when he was bed-bound, unable to move or talk, he continued to smile.'
Elsie described Marshall as a 'beautiful, brave little boy,' who - despite his infancy - seemed to 'accept' his illness.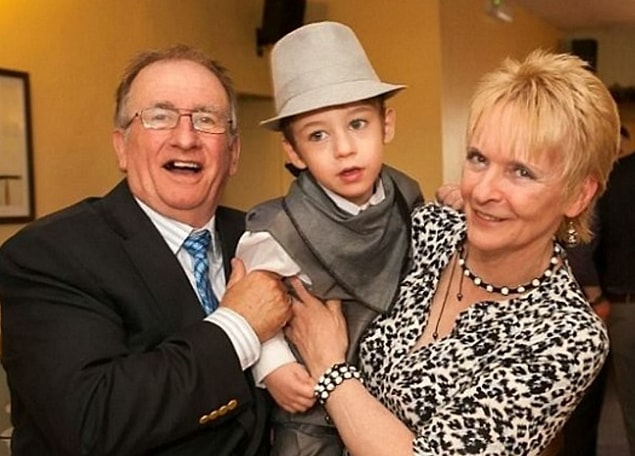 She added: 'Marshall took everything in his stride. Every time he lost a skill, he would continue as normal. Batten disease is a horrible condition and it's been an evil journey to go through but he was so, so brave. Marshall lost everything within 18 months of the diagnosis but he seemed to just accept it. He never cried. He took everything this disease threw at him and kept trying.'
"He would drop to the floor about 40 times a day, that's why he wore a helmet, but he would always get back up. He never complained or got frustrated by it."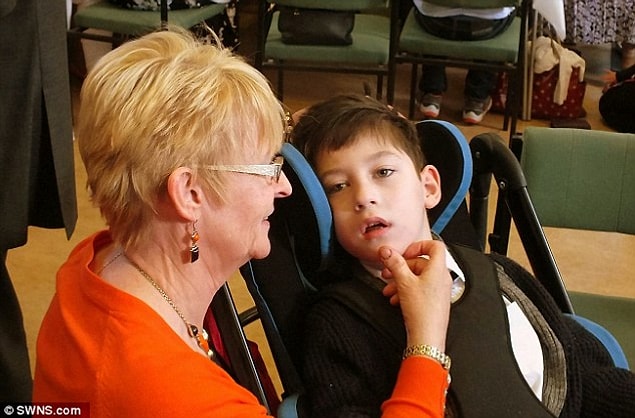 A fan of the Toy Story film franchise and Spider-Man, Marshall's funeral on November 8 - planned to coincide with his eighth birthday - will be superhero-themed.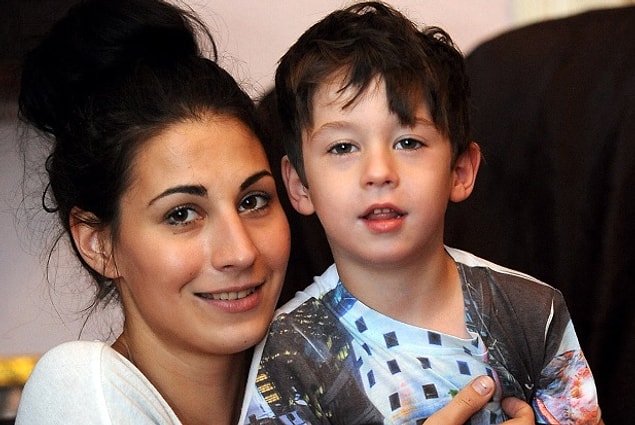 Here is Marshall's letter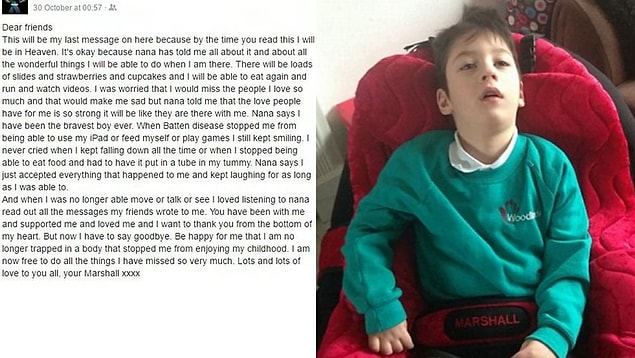 'Dear friends,
This will be my last message on here because by the time you read this I will be in Heaven.
It's okay because nana has told me all about it and about all the wonderful things I will be able to do when I am there.
There will be loads of slides and strawberries and cupcakes and I will be able to eat again and run and watch videos.
I was worried that I would miss the people I love so much and that would make me sad but nana told me that the love people have for me is so strong it will be like they are there with me.
Nana says I have been the bravest boy ever. When Batten disease stopped me from being able to use my iPad or feed myself or play games I still kept smiling. I never cried when I kept falling down all the time or when I stopped being able to eat food and had to have it put in a tube in my tummy.
Nana says I just accepted everything that happened to me and kept laughing for as long as I was able to.And when I was no longer able move or talk or see, I loved listening to nana read out all the messages my friends wrote to me.
You have been with me and supported me and loved me and I want to thank you from the bottom of my heart. But now I have to say goodbye.
Be happy for me that I am no longer trapped in a body that stopped me from enjoying my childhood. I am now free to do all the things I have missed so very much.
Lots and lots of love to you all, your Marshall'