News
Your Favorite Musical Comedy Series 'Girls5Eva' Debuts on Peacock for its Second Season
Your Favorite Musical Comedy Series 'Girls5Eva' Debuts on Peacock for its Second Season
We've got a piece for you if you adore musical comedy films. Peacock's Girls5Eva season two is a super-hit series following the chronicles of a once-popular girl squad from the 90s. After an upcoming rapper, Lil Stinker, sampled their big-hit song; the crew reconnects to revive their pop star dreams.
A Recap of Season One
The crew believed that they would maintain the pop music top position forever and essentially remain best friends forever. Twenty years later, the ladies went on their separate ways after a brief music career and led lives beyond the music operations. 
After a long disconnection, circumstances force the squad to reunite back into music but without one member. They rediscovered themselves forty-something women singing band.
Season 2 Synopsis
This new instalment promises more hijinks and songs from the band. 'They may be mature ladies balancing jobs, kids, spouses, ageing parents, shoulder pains, and debts, but they are still Girls5Eva.' The logline states.
Girls5Eva is among the few Peacock's scripted originals to be renewed after the cancellation of The Lost Symbol, Punky Brewster, and Brave New World.
Trailer
The trailer shows Summer, Wickie, and Dawn bracing Gloria in the hospital after she suffered a knee injury as they receive great news concerning a significant career opportunity. Despite the doctor's warning that Gloria needs to relax, the crew is still determined to resurrect their long-lived pop music career.
Crew and Cast Members
The film's crucial creator is Meredith Scardino of Late Show with David Letterman, Saturday Night Live, Unbreakable Kimmy Schmidt, and The Colbert Report. 
Your characters for the show include Sara Bareilles portraying Dawn, Paula Pell depicting Gloria, Busy Philipps enacting Summer, Renee E. Goldsberry acting Wickie, and Daniel Breaker playing Scott.
Other members are Bowen Yang (Zander), Vanessa Williams (Nance), Ashley Park (Ashley), Dean Winters (Nick), Jonathan Hadary (Larry), Tina Fey (Dolly), Andrew Rannells (Kev), and Jimmy Fallon (Himself).
Girls5Eva Season 2 Episodes Debut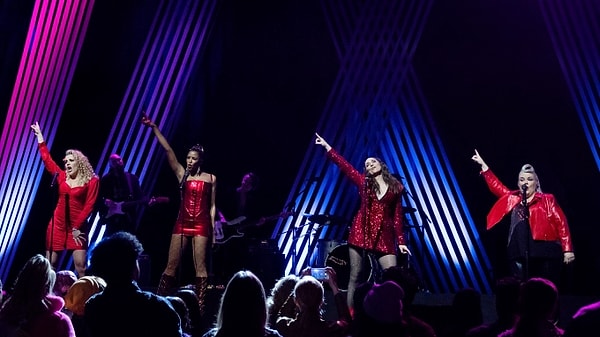 Scroll Down for Comments and Reactions