News
'Wednesday' Breaks Record as Most Viewed English Language Show on Netflix Surpassing 'Stranger Things' Season 4
'Wednesday' Breaks Record as Most Viewed English Language Show on Netflix Surpassing 'Stranger Things' Season 4
The comedy horror series Wednesday debuted on Wednesday, November 23, 2022, to rave reviews and the highest viewership hours in a week for an English-language series ever! 
Stranger Things season 4 previously retained the top position, accumulating 335.5 million hours in its debut week of May 30 to June 5 2022. The mystery drama series has now been dethroned by Wednesday, which sits at 341.2 million hours ensuing its last week's premiere.
Netflix Top 10 TV Shows
See below the English and non-English TV series on Netflix's top 10 list for the week of November 21 to November 27. 
English Shows
1. Wednesday season 1
2. 1899 season 1
3. The Crown season 5
4. Dead to Me season 3
5. Manifest season 4
6. Manifest season 1
7. Pepsi, Where's My Jet? Limited Series 
8. Manifest season 3
9. Warrior Nun season 2
10. Dead to Me season 1
Non-English Shows 
1. Elite season 6
2. Til Money Do Us Part season 1
3. Under the Queen's Umbrella season 1
4. Reborn Rich
5. Somebody season 1
6. The Unbroken Voice season 1
7. Chiquittas 
8. First Love season 1
9. Khakee: The Bihar Chapter season 1
10. Café con aroma de mujer season 1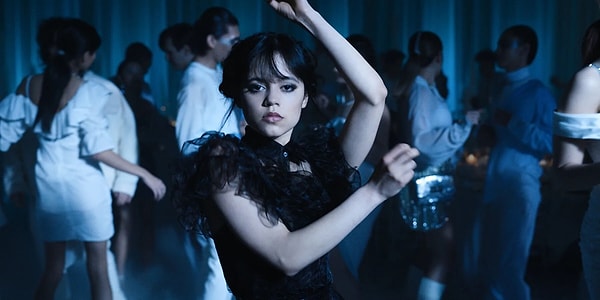 'Wednesday' Synopsis
Wednesday is a coming-of-age series based on The Addams Family's Wednesday Addams. 
The defiant standoffish Wednesday is discontinued from her high school after retaliating against her younger brother Pugsley's bullies by dumping piranhas in the pool where they were practising their swimming. Her parents, Gomez and Morticia Addams, send her to Nevermore Academy, a school for monstrous outcasts. 
However, Wednesday's cold personality makes her schoolmates sideline her, including the principal, Larissa Weems. Upon discovering her psychic abilities, Wednesday holds the key to unlocking a local murder case.
'Wednesday' Cast
Containing eight episodes, the TV show stars Jenna Ortega as the lead character Wednesday Addams; Luis Guzmań as Gomez Addams, Wednesday's father; Catherine Zeta-Jones as Morticia Addams, Wednesday's mother; Isaac Ordonez as Pugsley Addams, Wednesday's brother and Gwendoline Christie as Larissa Weems, Nevermore Academy's principal.  
Riki Lindhome and Christina Ricci also feature as Dr Valerie Kinbott, Wednesday's therapist and Marilyn Thornhill, a botanist teacher at Nevermore Academy.
'Wednesday' Episodes
The episodes are all available on Netflix under the following names:
Episode 1: Wednesday's Child is Full of Woe

Episode 2: Woe is the Loneliest Number

Episode 3: Friend of Woe

Episode 4: Woe What a Night

Episode 5: You Reap What You Woe

Episode 6: Quid Pro Woe

Episode 7: If You Don't Woe Me by Now

Episode 8: A Murder of Woes
Scroll Down for Comments and Reactions