News
'The Pale Blue Eye': Everything We Know About the Horror Mystery Netflix Film Starring Christian Bale and this 'Harry Potter' Star
'The Pale Blue Eye': Everything We Know About the Horror Mystery Netflix Film Starring Christian Bale and this 'Harry Potter' Star
We rarely saw much of Harry Melling after the Harry Potter franchise wrapped up in 2011. But his piercing stare is hard to ignore when you do see it. Well, Melling is making a comeback with Netflix's horror mystery film The Pale Blue Eye, starring alongside the legendary actor Christian Bale. 
In case you're wondering what part Melling played in Harry Potter, he was Dudley Dursley, Harry Potter's spoilt cousin. The now mature actor is ready to show off his acting skills in a more serious role in the upcoming film. 
Find out all there is to know about The Pale Blue Eye.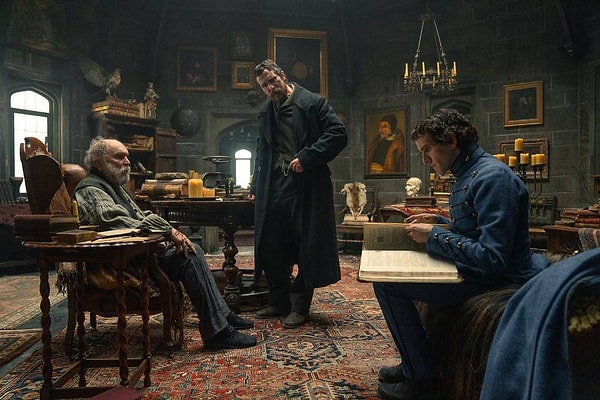 'The Pale Blue Eye' Synopsis
Set in 1830, in West Point, New York, the film follows veteran detective Augustus Landor, who is recruited to investigate the chilling murder of a cadet at the United States Military Academy. Even more mysterious, the dead cadet's heart was skilfully harvested. 
Augustus seeks the help of young cadet Edgar Allan Poe, an eccentric man and a lover of poetry. 
The Pale Blue Eye is based on the 2003 novel of the same title by Louis Bayard.
Cast
A-lister Christian Bale takes the lead as Augustus Landor, while Harry Melling plays Cadet Edgar Allan Poe. 
Worth mentioning, are the familiar faces of Robert Duvall as Jean Pepe, Toby Jones as Dr Daniel Marquis and Timothy Spall as Superintendent Thayer. 
Gillian Anderson also features as Julia Marquis alongside Lucy Boynton as Lea Marquis, Charlotte Gainsbourg as Patsy, Harry Lawley as Artemus Marquis, Simon McBurney as Captain Hitchcock, Hadley Robinson as Mattie, Joey Brooks as Cadet Stoddard, Brennan Keel Cook as Cadet Huntoon Gideon Glick as Cadet Horatio Cochrane, Matt Heim as Cadet Fry, Steven Maier as Cadet Llewlyn Lee and Charlie Tahan as Loughborough. 
The Pale Blue Eye is helmed and directed by Scott Cooper and produced by Cross Creek Pictures. Bale and Cooper also produced the film together with John Lesher and Tyler Thompson.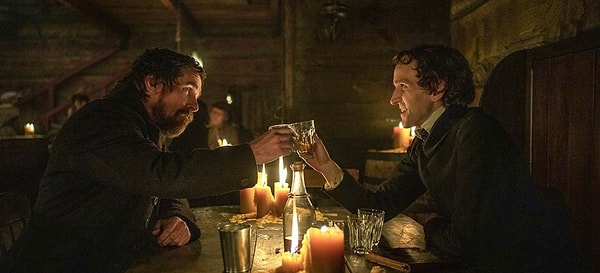 Release Date
The haunting new film is scheduled to debut in select U.S. theaters on Friday, December 23 2022. It will then head to Netflix on January 6 2023. 
You can also catch Harry Melling in Netflix's highly acclaimed coming-of-age miniseries Queen Gambit starring Anya Taylor-Joy as Beth Harmon, a competitive chess player. Melling played Harry Betlik, Beth's competitor and later friend.
Scroll Down for Comments and Reactions