The Masked Singer's Lemur Mask Unveiled
News
>
The Masked Singer's Lemur Mask Unveiled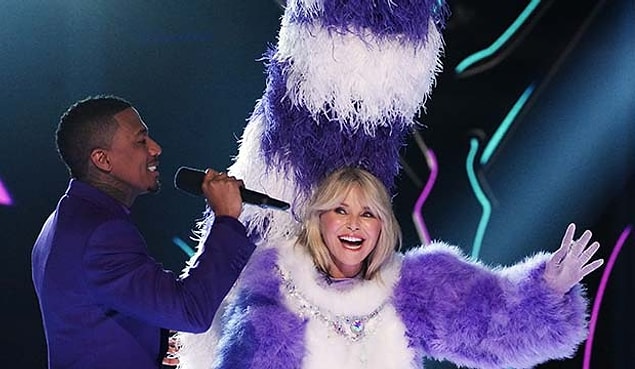 The Unmasked and Soon-to-be-Unmasked
Brinkley as Lemur joins the other unveiled performers consisting of, Duff Goldman as McTerrier, Jorge Garcia as Cyclops, Joe Buck as the Ram and Jordan Mailata as Thingamabob. Lemur from Team Cuddly was one among the five performers of the show's season 7 fourth edition. 
The other undisclosed contestants include Miss Teddy from Team Cuddly, who performed 'Tell It To My Heart" by Taylor Dayne. The panel guessers are CeCe Winans, Lauryn Hill, Loretta Devine, Vanessa Williams, CeCe Peniston and Jill Scott.
Hydra from Team Bad performed 'Hey Soul Sister' by Train, and the panel guessers comprises 'Three Amigos'- Chevy Chase/Martin Short/Steve Martin, Statler and Waldorf and 'The Big Lebowski'- John Goodman/Jeff Bridges/Steve Buscemi.
Next is Ringmaster from Team Good, who performed 'The Climb' by Miley Cyrus. Kelly Clarkson, Olivia Rodrigo and Kacey Musgraves are the guessers. 
Armadillo from Team Good performed 'Secret Agent Man' by Johnny Rivers, and the panel guessers are Vin Diesel, Chuck Norris and Erik Estrada.
The Masked Singer Season 7 Contestants
The Masked Singer's seventh season began with 15 contestants divided into three teams The Good, The Bad and The Cuddly. The Good consists of Armadillo, Frog Prince, Ringmaster, McTerrier and Firefly. The Bad comprises Cyclops, Jack in the Box, Queen Cobra, Ram and Hydra. The Cuddly contains Miss Teddy, Thingamabob, Lemur, Space Bunny and Baby Mammoth.
The fifth episode, 'Masking for a Duel-Round 2', will air next Wednesday, April 6 on FOX.