News
'Shrek Forever After: The Final Chapter' To Arrive On Netflix On April 2022
'Shrek Forever After: The Final Chapter' To Arrive On Netflix On April 2022
'Shrek Forever After' (also known as Shrek 4 and previously promoted as Shrek Goes Fourth and Shrek: The Final Chapter) is a 2010 American computer-animated comedy film loosely based on the 1990 picture book Shrek! by William Steig.
'Shrek 4: Forever After' Release Date
'Shrek Forever After' will arrive on Netflix on April 1st 2022.
'Shrek 4: Forever After' Trailer
'Shrek Forever After' trailer is currently available ahead of the film's release date. Check this out below.
'Shrek 4: Forever After' Plot Summary
Shrek (Mike Myers), the once terrible monster, now lives happily with his wife Fiona (Cameron Diaz) and three children. However, during his children's birthday party, he experiences a nervous breakdown in front of them and their friends.
He suddenly wishes to return to his former life as a true ogre, as he was before meeting Fiona. As a result, he seeks assistance from deceitful dealmaker Rumpelstiltskin (Walt Dohrn).
At first, Shrek appears to be living the life he previously had, and everything appears to be well. But he soon discovers that Rumpelstiltskin has set him up and now commands the realm with an iron fist.
Shrek is in for the fight of his life as he strives to reclaim his life before time runs out with the help of his buddies Donkey (Eddie Murphy), Fiona, and Puss in Boots (Antonio Banderas).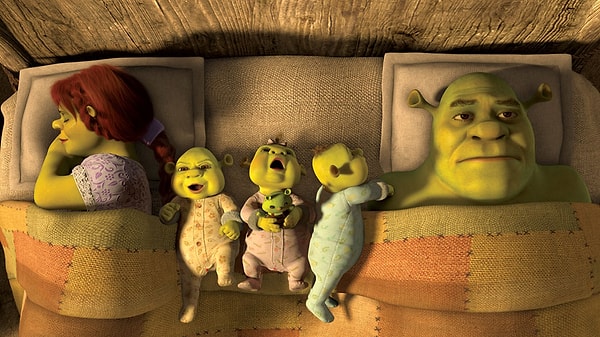 'Shrek 4: Forever After' Voice Cast
It stars Mike Myers as Shrek, Eddie Murphy as Donkey, Cameron Diaz as Princess Fiona, and Antonio Banderas as Puss in Boots reprising their previous roles, with Walt Dohrn introduced in the role of Rumpelstiltskin.
'Shrek 4: Forever After' Production And Box Office Details
Produced by DreamWorks Animation and distributed by Paramount Pictures, it is the fourth installment in the Shrek film franchise and the sequel to Shrek the Third (2007). The film was directed by Mike Mitchell and written by Josh Klausner and Darren Lemke.
Are you looking forward to watching 'Shrek Forever After' on Netflix? Let us know in the comment section below.
Scroll Down for Comments and Reactions