News
Prime Video Releases New Episodes For 'Sofia Niño de Rivera: Lo Volvería a Hacer'
Prime Video Releases New Episodes For 'Sofia Niño de Rivera: Lo Volvería a Hacer'
'Sofia Niño de Rivera: Lo Volvería a Hacer' is an Amazon Original Series first released in 2021. Friday this week, February 11, new episodes will be released on Amazon Prime.
Watch as the first female Mexican comedian to record a comedy special in New York films her third comedy special. With two sold out shows at The Gramercy Theatre, Sofia also produced and directed 'Lo Volvería a Hacer' for Amazon Prime Video.
Sofía Niño de Rivera: Lo Volvería a Hacer - Tráiler oficial | Amazon Prime Video
About Sofia Niño de Rivera
Sofia Niño de Rivera is one of the most famous Latin American comedians. Beginning her journey eight years ago, Sofia is a pioneer in the Stand Up Comedy genre in Mexico. 
Sofia first performed in a little bar in SoHo where she had to pay to go on stage. Today, she has already had 2 sold out shows at The Gramercy Theatre. With 'Lo Volvería a Hacer,' Sofia will leave you to break free and give in to the urge to repeat all those things that you might regret.
In her recent collaboration with Saskia Niño de Rivera in the Reinserta project, they offered a live comedy workshop to the detainees at Santa Martha Acatitlan prison. The comedy partners started this workshop with the intention to use humor as a therapeutic technique.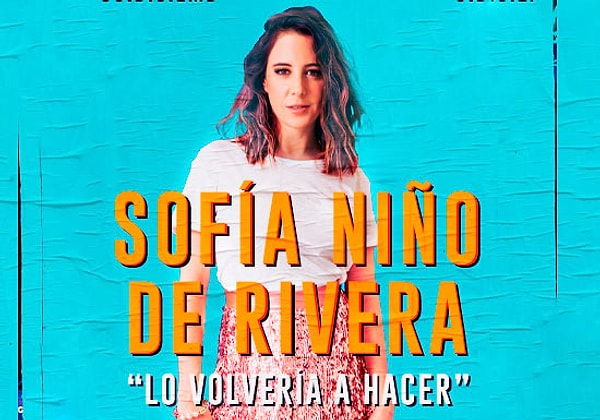 Sofia released her first Netflix special for a Mexican woman comedian in June 2016 entitled 'Expuesta' (Exposed). In March 2018, she debuted her second Netflix special, 'Selección Natural' (Natural Selection), with which she went on tour across Mexico. Sofia is also a member of the huge Netflix series hit Club de Cuervos.
Sofia Niño de Rivera also appeared in films including 'Una Mujer Sin Filtro.' Her first film was written by Nicolas Lopez and directed by Luis Eduardo Reyes. 'Recuperando a mi Ex,' her second film, was directed by Gabriel Guzman Sanchez. Both of Sofia's films were released in 2018.
Scroll Down for Comments and Reactions