News
Netflix Is Dropping The Psychological Thriller 'Windfall' In March 2022
Netflix Is Dropping The Psychological Thriller 'Windfall' In March 2022
Jesse Plemons and Lily Collins star in this crime thriller 'Windfall' about a man breaking into a billionaire's vacation home just as they turn up. When the pompous mogul and his wife arrive for a last-minute excursion, a man hacks into a tech billionaire's empty vacation property, but things go awry.
Netflix announced in 2021 that the noir thriller Windfall, starring Jason Segel, Lily Collins, and Jesse Plemons, has been bought for streaming. Netflix is said to have paid an eight-figure sum for the film, which will be released in March 2022.
What's The Release Date For 'Windfall'?
'Windfall' will be available to stream on Netflix on Friday, March 18th, 2022.
'Windfall' Trailer
The streamer dropped the trailer for the film today. You can check this out below:
Windfall | Official Trailer | Netflix
'Windfall' Storyline
Windfall features a man (Segel) who breaks into a wealthy couple's vacation home (Plemons and Collins), only for them to turn up while he is still there, prompting a split-second choice to hold the pair hostage in order to extract more money.
Plemons' character shines through, as do underlying tensions with his wife, and the teaser teases a common history between Plemons and Segel's characters, with the trailer eventually rising to violence before cutting away.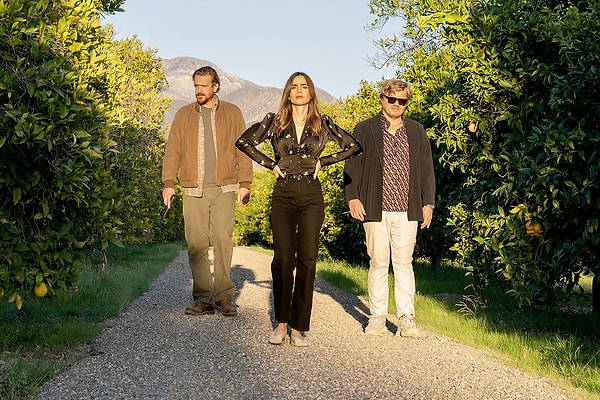 'Windfall' Production Details
Windfall is directed by Charlie McDowell, who previously collaborated with Segel and Plemons on The Discovery, and features a screenplay by Justin Lader and Andrew Kevin Walker based on a story by McDowell and Segel, the latter of whom will star in HBO Max's Winning Time: The Rise of the Lakers Dynasty and Apple TV+'s The Sky is Everywhere.
Collins maintains her long-term relationship with Netflix, starring alongside partner Kirsten Dunst in the hit series Emily in Paris, and Plemons maintains his relationship with the streaming service, having recently received an Academy Award nomination for his role in Netflix's hit film The Power of the Dog.
'Windfall' is produced by Alex Orlovsky, Duncan Montgomery, McDowell, Segel, Collins, Plemons, and Jack Selby, with executive producers David Duque Estrada, Elika Portnoy, Rick Covert, Walker, and Lader.
Are you looking forward to 'Windfall' coming to Netflix? Let us know in the comments down below.
Scroll Down for Comments and Reactions