News
More Action For Disney+ Subscribers As The Streamer Releases All Seasons of The Police Drama Series 'NYPD Blue'
More Action For Disney+ Subscribers As The Streamer Releases All Seasons of The Police Drama Series 'NYPD Blue'
Earlier this month, Disney+ announced that all twelve seasons of the classic 20th Television police drama series NYPD Blue will be coming to their platform on Wednesday, April 13th.
What Goes on in NYPD Blue
Devoted to portraying what goes on in the police force, NYPD Blue depicts the everyday lives of the staff members of a New York City police department. It combines real drama, real language and real life. Authentic all the way! From the bedroom to the staff room, NYPD Blue offers viewers the kind of vibe you'd expect in a theatrical film than on network TV.
NYPD Blue's Cast Members
The show's protagonist remained a constant leading character throughout the 12-season run as Detective Andy Sipowicz played by Dennis Franz. Many characters came and went, but here are a few notable mentions: David Caruso as John Kelly, Kim Delaney as Diane Russell, Jimmy Smits as Bobby Simone, Gail O' Grady as Donna Abandando, Charlotte Ross as Connie McDowell, Sharon Lawrence as Sylvia Costas, Gordon Clapp as Greg Medavoy, Nicolas Turturro as James Martinez, and Ricky Schroder as Danny Sorenson.  
Though some faces faded from the spotlight since the show ended, some of the veterans who are Hollywood's big names today include Sanaa Lathan, Erick Avari, Daniel Roebuck, Dan Castellaneta, Danica McKellar, Michael Jai White, Henry Simmons, Robert LaSardo, Jacqueline Obradors and Amy Brenneman.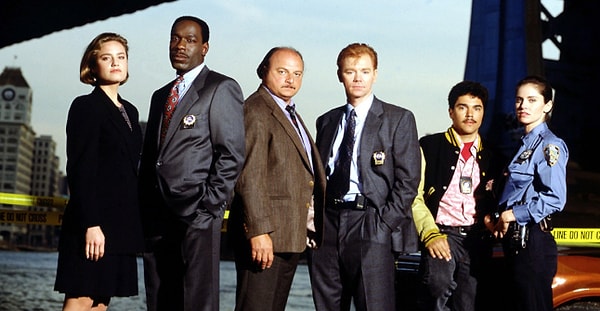 NYPD Blue's Defining Moments
Generation X and Y can definitely recall this series as it first debuted on the ABC network on September 21 1993, airing 260 episodes for twelve good years before coming to a close on March 1 2005.
NYPD Blue was originally ABC's longest airing primetime one-hour drama show until Grey's Anatomy overtook it in 2016. In 1997, its season 1 fourth episode, 'True Confessions', ranked position 36 on 'TV Guide's 100 Greatest Episodes of All Time.' 
The entire series actually performed great, with an 83% Rotten Tomatoes rating and a 77% rating on IMDb, making it the ultimate binge-watch or re-watch this month.
Scroll Down for Comments and Reactions