News
Mac Barnett & Jon Klassen's Trilogy Book Adaptation, 'Shape Island' Debuts Soon on Apple TV+
Mac Barnett & Jon Klassen's Trilogy Book Adaptation, 'Shape Island' Debuts Soon on Apple TV+
2023 is the most fantastic year for all animated show lovers as a new series, Shape Island, lands on Apple TV+. Shape Island is an adaptation of Jon Klassen and Mac Barnett's Award-winning book trilogy, Shapes. 
Apple TV+ announced the show a while ago, followed by sharing its official trailer on YouTube. Shape Island joins other all-ages animations on the streaming platform, such as Duck &Goose, El Deafo, and Harriet the Spy.
What's the Plot for 'Shape Island'?
As the title suggests, the forthcoming Apple TV series follows three best friends, Triangle, Circle, and Square, as they explore the world, connect with others, and learn how to embrace each other's differences.
Besides the shapes, the friends also carry different personalities. The square is always serious; the Triangle is tricky, while the Circle remains bold throughout the adventures. 
The show aims at teaching about the different forms of friends and relationships while entertaining its young viewers.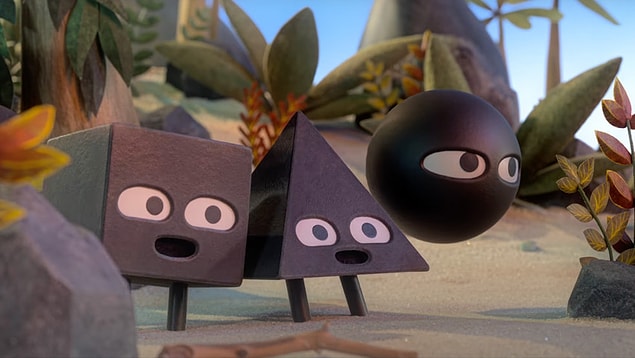 'Shape Island' Trailer?
It's been a week since Apple TV+ shared the official trailer for Shape Island season one. In 1 minute and 16 seconds, the trailer welcomes viewers to the shape island with Circle, Square, and Triangle as the main inhabitants.
Square loves everything connected to its square shape, while Circle believes in herself even in the 'impossible' tasks. On the other hand, Triangle gets carried away by its emotions, although it remains in constant denial. As different as the shapes are, friendship helps them stick together.
Who are Behind the Success of 'Shape Island'?
Authors Klassen and Barnett serve as the creators and chief producers of Shape Island, alongside Ryan Pequin, Drew Hodges, and Kelli Bixler as co-chief producers. 
The show incorporates the voices of Yvette Nicole Brown as the narrator, Scott Adsit as Triangle, Gideon Adlon as Circle, and Harvey Guillen as Square'.
When is 'Shape Island' Coming Out?
Shape Island premieres on Friday, January 20, 2023, with eight episodes. Apple TV+ used its official Twitter page to share the premiere date alongside the show's official trailer ahead of its release. 
Yvette Nicole Brown has also been promoting the show via her Twitter account with tweets, posters, a trailer, and responses to fans' comments.
Scroll Down for Comments and Reactions