News
Hulu's 'Only Murders in the Building Season 2' Got Us Untangling More Arconia Mysteries: Trailer, Release Date, Plot, Cast and More
Hulu's 'Only Murders in the Building Season 2' Got Us Untangling More Arconia Mysteries: Trailer, Release Date, Plot, Cast and More
Since season one of Only Murders in the Building, a comedy-meets-murder mystery series, ended, fans have been yearning for more. The expectation for solving more cases in season one was intense since episodes launched weekly.
A Recap of Season One
Tim Kono's murder sets the happenings in motion, followed by Mabel, Oliver, and Charles' podcast that forces Mabel to encounter her painful past. Charles' new girlfriend turns out to be Kono's killer.
Season one ends as Oliver and Charles find Mabel covered in blood at her apartment, kneeling over Bunny's (who hated the investigating trio so much) dead body. The trio is arrested and taken out of Arconia by police. Did Mabel commit the murder? Have some framed them? Let's find out on Only Murders in the Building season two.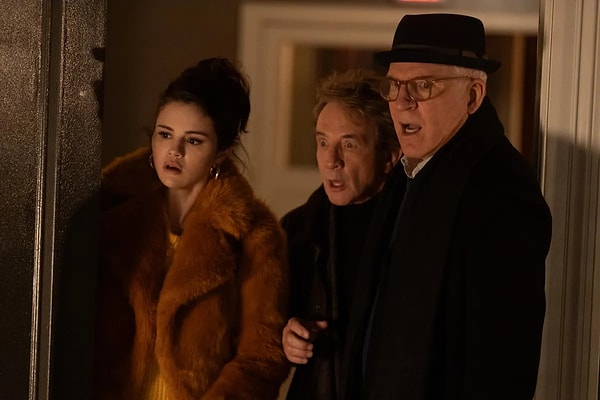 Season 2 Plot
Only Murders in the Building season two follows Arconia Board President Bunny Folger's mysterious death as Mabel, Oliver, and Charles race to search for her killer. 
Major obstacles kick in during the investigation as they're publicly involved in Bunny's killing, become subjects to the highly competitive podcast, and are forced to deal with the New York community, which believes they participated in the murder. Let's dive in to find the truth.
Cast
This season stars Selena Gomez, Martin Short, and Steve Martin alongside Da'Vine J. Randolph, Tina Fey, Michael C. Creighton, Jackie Hoffman, Amy Ryan, and Nathan Lane. Jayne Houdyshell will also resume her role as Bunny.
Debut Date
Only Murders in the Building season two launches on June 28th, with two episodes followed by weekly releases exclusively on Hulu.
Scroll Down for Comments and Reactions