HBO Max's 'The Staircase' is Much More Beyond a Rework of the Ideal Real-Crime Docuseries
News
>
HBO Max's 'The Staircase' is Much More Beyond a Rework of the Ideal Real-Crime Docuseries
Recently, true crime documentaries are on the television spotlight, shifting from a typical documentary into glamorous narrative filmmaking. HBO Max couldn't miss the trend; it recently launched a true-crime documentary series, The Staircase, in the most fascinating way possible. 
The film is a captivating rework of Jean Xavier's (a French filmmaker) documentary The Staircase, concerning Michael Peterson's case of 2004. It investigates Peterson's life, his straggling family in North Carolina, and his wife, Kathleen.
The Real Case Events
Kathleen was found lifeless at the stair foot in their North Carolina residence after Peterson called 911 on December 9th, 2001. He accused her of heavy drinking that had caused her imbalance and thus tripping down the stairs. 
While the investigators resolved that the blood spots had been from the reported accident, Kathleen also had various injuries not matching the event. Peterson became the crucial suspect in his wife's death from several reported marital issues.
The Re-enactment
The trailer kicks off with a collage of scenes comparing a family rooted in happiness and turbulence, events of dancing and smiling mixed with those of faint crying and screaming. Ironically, it changes tone as Peterson tells 911 that his wife tripped over the stairs. 
There are glances of the forensic investigation and the storyline of the original The Staircase documentarians presenting the scenes behind the investigation and trial.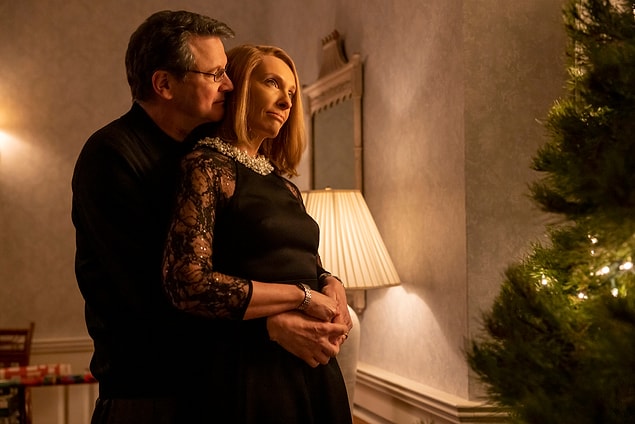 Cast & Crew
The leading creators of the show are Maggie Cohn and Antonio Campos. Colin Firth portrays Michael Peterson as the latter still exists and couldn't represent the guilty or innocent self. 
Other starring characters include Toni Collette depicting Kathleen Peterson, Juliette Binoche, portraying Sophie Brunet, Rosemarie DeWitt, enacting Candace H. Zamperini, and Odessa Young playing Martha Ratliff. Sophie Turner and Parker Posey depict Margaret Ratliff and Freda Black, respectively.
The Staircase lands on Thursday, May 5th, with three episodes and a weekly episode release marking the end of the eight-episode documentary series on June 9th.