News
Fly High With 'Triumph in the Skies'
Fly High With 'Triumph in the Skies'
'Triumph in the Skies', the feature film adaptation of the TV series with the same title, starts to stream on Netflix this Thursday, January 20, 2022.
What 'Triumph in the Skies' Is All About
'Triumph in the Skies' is a 2015 Hong Kong-Chinese romantic drama film. The movie is an adaptation of the Triumph in the Skies television series. The film was first released on February 19, 2015, and will now be available to stream on Netflix starting the 20th of January.
衝上雲霄 Triumph In The Skies (2015) Official Hong Kong Trailer HD 1080 HK Neo Francis Ng Sammi Cheng
A young pilot named Branson takes over Skylette Airlines, only to realize that his former lover, Cassie, is a flight attendant there. Although their relationship was a thing of the past, the two still continue to harbor hidden feelings for each other.
In an effort to rebrand the airline, Branson invites rock idol, TM, to star in an upcoming commercial and appoints Sam as her flying consultant. As the shoot progresses, the two slowly discover each other's good qualities, leading to their development of feelings for each other.
Jayden left Skylette Airlines to become a private jet pilot. He meets Kika during a flight and assumes her to be feisty and shallow.Turns out, they have a lot in common and start falling in love with each other. He, then, realizes what causes her to be defiant.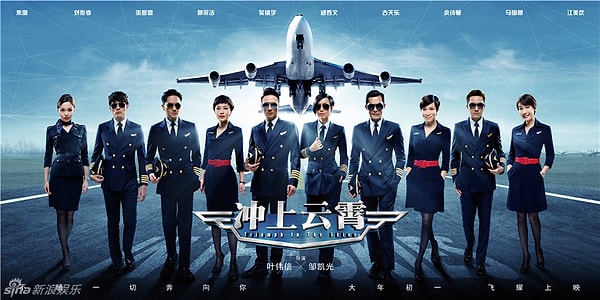 The People In 'Triumph in the Skies'
The cast of the Hong Kong-Chinese film, 'Triumph in the Skies,' are the following:
Louis Koo as Branson Cheung

Sammi Cheng as TM Tam

Francis Ng as Samuel 'Sam' Tong

Julian Cheung as Jayden 'Captain Cool' Koo

Charmaine Sheh as Cassie Poon

Amber Kuo as Kika Sit

Océane Zhu as Winnie

Dean Liu as Tony

Kenneth Ma as Roy Ko

Elena Kong as Heather Fong
Tell us what you think about 'Triumph in the Skies' in the comment section below!
Scroll Down for Comments and Reactions