News
Fans Claim Injustice Over 'Better Call Saul's No Emmy
Fans Claim Injustice Over 'Better Call Saul's No Emmy
No words can express fans' frustation over the lack of Emmy wins for the highly acclaimed Breaking Bad prequel spin-off series Better Call Saul.
After airing six seasons, the audience was more than convinced that Better Call Saul would definitely scoop an Emmy Award for its jaw-dropping final season but were shocked and abhorred. Despite the drama show's 46 nominations, it didn't take home even a single award.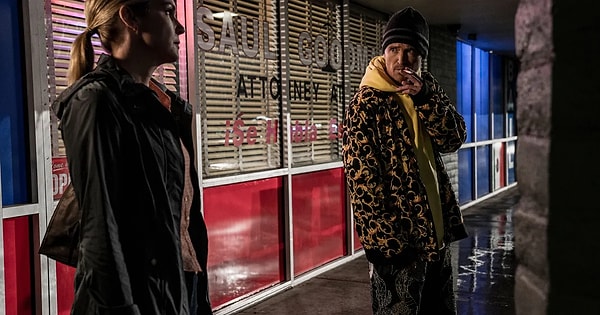 Fans Angry with the 74th Primetime Emmy Awards
Enraged fans took to Twitter to express their sole disappointment for Emmy's injustice, some even voicing their disbelief for Euphoria receiving awards but not Better Call Saul. 
Vince Gilligan and his team brought the house down with their predecessor, earmarked 'best TV show ever' that received 58 Emmy Award nominations and 16 trophies. 
The story of how Jimmy McGill worked his way to become the dubious attorney Saul Goodman is an equally big hit. But despite its soaring success and sky-high ratings (98% on Rotten Tomatoes, 8,9/10 on IMDb and 94% on Google Review), it's completely stunning that Jimmy's perfect story ending won no Emmy.
Fans Claim that Bob Odenkirk was "Robbed"
No doubt that Bob Odenkirk gave a legendary performance as the shady lawyer, with emotional depth and a funny caricature. But it was Squid Game's Lee Jung-Jae, who portrayed Seong Gi-hun, that took home the trophy for Lead Actor in a Drama Series. 
Though it's no surprise that Squid Game won Emmys after its undisputed success on Netflix last year, some fans thought that Bob Odenkirk should have won the category. 
Boo Su-Lyn commented on Twitter, 'I think Bob Odenkirk for Better Call Saul should have won the Emmy for best actor. No doubt Squid Game is a fantastic show and Lee is talented, but Odenkirk displayed a far wide and more difficult acting range in BCS that's much more complicated TV."
'WHAT A SICK JOKE' Movement
Better Call Saul fans were so furious at its lack of Emmy wins that they started a WHAT A SICK JOKE trend on Twitter. 
"Bob Odenkirk. Rhea Seehorn. Better Call Saul. A generational actor. A generational actress. Arguably the best drama series in recent memory, if not history. All snubbed at the #Emmy. What a sick joke," said one fan.
Another one voiced his concern with a photo of a frustrated Jimmy McGill sitting by the road pavement, "Rhea and Bob robbed again this year. What a sick joke."
Angry Memes
A whole lot of fanatics posted angry memes on Twitter for the show going empty-handed, including a hilarious GIF of Charles McGill, Jimmy McGill's brother yelling, 'What a Sick Joke!' in court after discovering that his brother had conned him.
Infuriated fans are now convinced that the Primetime Emmy Awards is itself a joke by choosing to stump all over shows with great acting and writing, such as Better Call Saul and instead propagate trashy ones. 'Euphoria won six Emmys while Better Call Saul got none. What a sick joke!'
Scroll Down for Comments and Reactions