News
Essential Details About 'Dragons Rescue Riders: Heroes of the Sky' Season Four
Essential Details About 'Dragons Rescue Riders: Heroes of the Sky' Season Four
The Rescue Riders have been working extra time to add to the Peacock's kids programming plate with the fourth and last installment of Dragons Rescue Riders: Heroes of the Sky. 
As a franchise of the famous How to Train Your Dragon film, the show launched its first season in November 2021. It has performed well since, with a 7.6 out of 10-star rating on IMDb. 
The previous season three landed on May 19th, 2020, followed by loads of fans' positive critics and reviews; no wonder it was quickly renewed for a fourth season.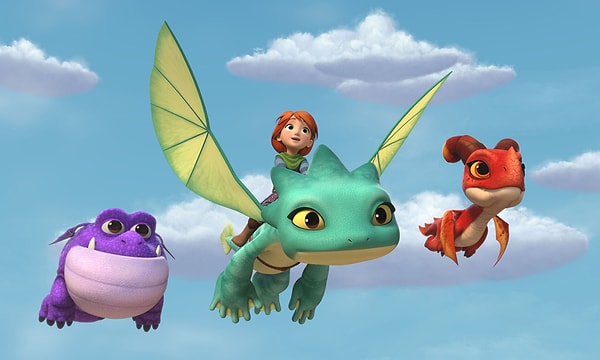 About 'DRR: Heroes of the Sky'
The third season of DRR: Heroes of the Sky saw Layla and Dak alongside their fashioned scaly creatures as they sailed through eye-catching adventures as one united team. It also showcased the crew's care for new family members, meeting a unicorn and electric dragons. 
In the upcoming season, as usual, the crew is heading to new destinations while helping Magnus get back workshop from a group of metal-eating baby dragons, Razortooth Matelmaw. 
Dak and his friends become more mischievous after mingling with a Copyclae dragon, who can imitate their powers and voice. The crew is also involved with reclaiming Dak and Layla's memories after a wipe-out-memory dragon attacks them- plenty of scenes for the kids. 
Peacock Junior has taken it to its primary YouTube page to present nearly all the scenes of Dragons Rescue Riders: Heroes of the Sky season four in 1 minute. The trailer starts with the riders winging it to all-new adventures and actions, from rock, golden, fire, and water blasts- you can't afford to meet the two kids and five unique dragons.
The Show Creators and Cast
Dragons Rescue Riders: Heroes of the Sky is chiefly produced by Jack Thomas and Brian Roberts as a DreamWorks Animation project. Several talented voices are featured in the show, including Nicolas Cantu (Dak), Marsai Martin, Zach Callison, Roshon Fegan (Elbone), Brennley Brown (Layla), Skai Jackson, Noah Bentley, Carlos Alazraqui (Duggard), Tara Strong, Andre Robinson, and Brad Grusnick (Magnus).
Release Date
The fourth season of Dragons Rescue Riders: Heroes of the Sky launches on Thursday, September 29th, at Peacock. 
DreamWorks Junior took it to its primary Twitter account to share a trailer with the caption, 'Get ready to fly high and wing it in the final season of DRR: Heroes of the Sky.' 
Scroll Down for Comments and Reactions