News
'Dragons: The Nine Realms' Season Four: Plot, Trailer, Release Date & More
'Dragons: The Nine Realms' Season Four: Plot, Trailer, Release Date & More
Evidently, the Dragon crew didn't come to play. You can tell from their determination to deliver overwhelming seasons back to back. 
It's barely two months since Dragons: The Nine Realms launched its third season, and season four soon approaches. Dragons: The Nine Realms is based on the popular How to Train Your Dragon film.
The previous seasons have managed an impressive 65% average audience score and a 5.4 out of 10-star rating on IMDb.
About 'Dragons: The Nine Realms' Season Four
Dragons: The Nine Realms is set 1300 years after the happenings of How to Train Your Dragon. The third season saw the Dragon Rider uncover a new world, the Fire Realm, with new dragons. As they strive to protect their secrets from the humans, the riders are forced to navigate through the fire realm in the mission to rescue the Crystal world. 
The season also had the Dragon Riders protecting the Lighting Bird. Despite plenty of obstacles in their journey, we can confidently term the Dragon Riders' crew as the bravest.
The upcoming season has a lot more in store for the kids as the riders dive into a different world, the Ice Realm, where the Dragons must endure the low temperatures and frozen terrains. However, the team soon realizes an approaching danger, making the ice realm unsafe.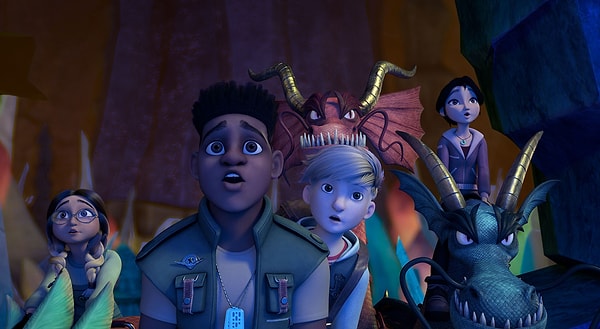 The Trailer
Peacock Kid's most recent trailer for Dragons: The Nine Realms season four showcases the events much better in one minute. The trailer starts with the Riders entering the ice realm with their dragons. 
Soon the crew uncovers an impending threat from a set of life-endangering dragons as they try everything possible to return to their previous world.
The Show Creators and Cast
Dragons: The Nine Realms is directed by Mandy Clotworthy, Andrew Collins, Robert Briggs, and Leo Riley, while Mae Catt, John Tellegen, Mark Henry, and Henry Gilroy serve as the show writers. 
The series' producers include Beth Sleven, Chuck Austen, Tellegen, and Gilroy. DreamWorks Animation Television is the production company behind the show's success.
The upcoming season incorporates several characters, including Justina Machado, Julia Stiles, Keston John, Aimee Garcia, Marcus Scribner, Tom Kullersen, Ashley Liao, and D'Arcy Carden.
When is the Debut Date
The fourth season of Dragons: The Nine Realms launches on Thursday, November 17th, with seven episodes, as in season three. 
Fans can satisfactorily watch the upcoming episodes on Peacock and Hulu as per their streaming charges.
Scroll Down for Comments and Reactions