News
'Dirty Lines' Season 1: Release Date, Cast, Plot, Trailer, And Everything We Know So Far
'Dirty Lines' Season 1: Release Date, Cast, Plot, Trailer, And Everything We Know So Far
'Dirty Lines' (Season 1) is a Dutch mini-series set in 1980s Amsterdam where the first ever erotic telephone numbers were set up. The series is inspired by Fred Sauewssig's book 06-Cowboys back when phone sex was in. 
Two brothers start a telecom sex company on the back of their parent's garage, and slowly but steadily, it turns out to be among the best companies worldwide.
'Dirty Lines' Release Date
'Dirty Lines' will be streaming on Netflix on April 8th with six episodes running.
'Dirty Lines' Trailer
Netflix has launched a trailer for 'Dirty Lines'. Check out the official trailer below.
'Dirty Lines' Plot
The story opens in 1987 in Amsterdam, during a period of significant change in Dutch society. Marly Salomon, a psychology student, takes on a part-time employment with Teledutch, a company founded by two brothers, Frank and Ramon Stigter, who founded Europe's first erotic telephone lines. Frank and Ramon become millionaires overnight, and Marly is caught up in the chaos.
The latter years of the Cold War instilled hope in a new generation and inspired them to live life to the fullest. With a radically new type of music: house, and a new love drug: XTC, Amsterdam became the epicenter of that cultural upheaval. Erotic phone lines provide a new means to have anonymous sex, altering not only the morality of its users, but also the morality of those who create it.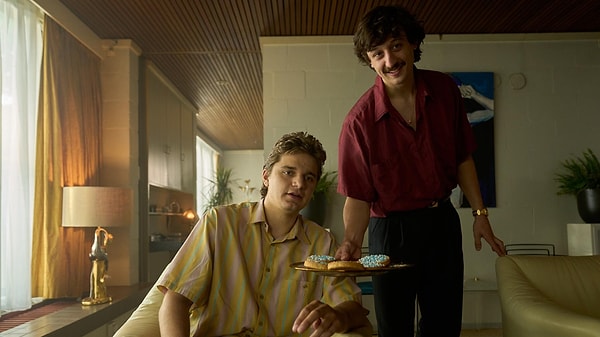 'Dirty Lines' Cast
The series features notable casts such as Joy Delima from Flikken Rotterdam, Minne Koole, Chris Peters from Black Widow, Abbey Hoes from The Neighbors, Charlie Chan, and Benja Bruijining. Other casts include Julia Akkermans, Yari Van Der Linden, Joes Brauers, Andre Dongle Themans, Ayla Cekin Satijn, Laura Bakker, Pip Lieke Lucas, Casper Nusselder, Manoushka Zeegelaar, and Eric van Sauers.
Amsterdam-based studio Fiction Valley produced this show.
Are you looking forward to including 'Dirty Lines' in your binge-watch list this April? Drop your thoughts in the comment section below.
Scroll Down for Comments and Reactions