Catch Harry Styles in the Trailer for the Psychological Thriller Film 'Don't Worry Darling'
News
>
Catch Harry Styles in the Trailer for the Psychological Thriller Film 'Don't Worry Darling'
Not only is Harry Styles a dreamboat music artist, but an actor as well. Styles wowed many with his acting debut in the 2017 war movie Dunkirk, and now he stars in the psychological thriller movie Don't Worry Darling alongside amazing big-league actors like Olivia Wilde, Florence Pugh, and Chris Pine, Gemma Chan and Nick Kroll, among others.
Set in the 1950s U.S., Don't Worry Darling presents Styles and Pugh as a young happy couple, Jack and Alice Chambers residing within a seemingly normal community, created by the company Jack works with. 
Obnoxious things begin to unfold, making Alice question the nature of her husband's work on the queer Victory Project. Their utopian life starts to crack as Alice roars tension within the community during her investigation to uncover the truth.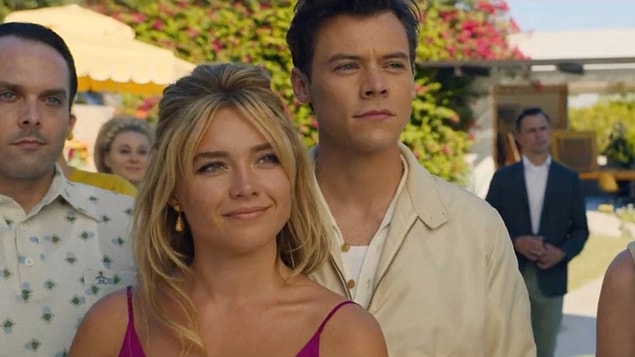 The Big News
The movie unveiled its official trailer on Monday, May 2, under Warner Bros. Pictures, with the description caption, 'Everyone is acting like I'm crazy, and I'm not crazy.' Catch the trailer on Twitter as well, posted by Olivia Wilde and the film's account page 'Don't Worry Darling'
Trailer
Kicking off with the song "Oogum Boogum' by Brenton Wood, we see Jack and Alice Chambers enjoying their marriage in 1950s suburbia, joined by other couples. Frank (Chris Pine) leads the Victory Project, commended by an upper-class client as one that'll change the world. 
The men ask the girls to stay in their lane at home, but Alice starts to get suspicious. She questions Frank at a dinner gathering and he answers, 'I'm curious where she's going with this."
My senses are tingling in anticipation of the movie's premiere, but it's going to be a long wait as it's scheduled for a theatrical release on September 23.
The Movie's Cast
Other A-list actors featured in the film include Wilde as Mary, Kroll as Bill, Chan as Shelley, Kiki Layne as Margaret, Sydney Chandler as Bunny, Kate Berlant as Peg, Asif Ali as Peter, Douglas Smith as John, Timothy Simons as Dean, Ari'el Stachel as Kevin, Alisha Heng as Rose, Marcello Julian Reyes as Fred, Mariah Justice as Barbara and Dita Von Teese as Burlesque Dancer.