News
Cardi B is Reported to have Sold Over 100 Million RIAA Units
Cardi B is Reported to have Sold Over 100 Million RIAA Units
Cardi B has seen her success achieved in numbers as she has reached over 100 million in Recording Industry Association of America Certified (RIAA) units sold.
According to a report by 'Chart Data,' the RIAA certification includes albums, singles and feature appearances that Cardi B has garnered in her music career up to now.
The Bronx-raised rapper has amassed over 54 million digital sales, which means she is now the best-selling female hip-hop artist of all-time.
This success comes after the RIAA recently announced that the New York native's singles 'Bodak Yellow,' and 'I Like It,' which features Latin stars J Balvin and Bad Bunny, have each sold 11 million units in the United States of America.
'Bodak Yellow,' was Cardi's lead single off of her debut studio project, titled 'Invasion of Privacy.'
The song earned Cardi B a diamond record, a feat never before awarded to a female rapper.
She also became the first female hip hop artist to climb to the summit of the Billboard Hot 100 music charts in the USA in 19 years with that single.
Cardi B - Bodak Yellow [OFFICIAL MUSIC VIDEO]
She became the first female rapper to earn several number 1 hits on the Hot 100 with her next big single, 'I Like It.'
Both songs have now gone platinum 11 times over, a feat no other female rapper has achieved in the genre's illustrious past.
Cardi's Court Case
The Queens star is currently embroiled in a court case, in which she is using the vlogger Tasha K for defamation damages.
The judge overseeing the lawsuit has instructed Tasha K to secure significant the cash amount awarded to Cardi B in the case with a bond.
The vlogger is reported to have to provide the collateral to cover a payment of close to $4 million through a bond company.
The court case first arose when Cardi B sued Tasha K for $75,000, citing that the YouTuber had made several false claims about her, which Tasha later admitted to doing on purpose
30th Birthday Party, Cabaret Style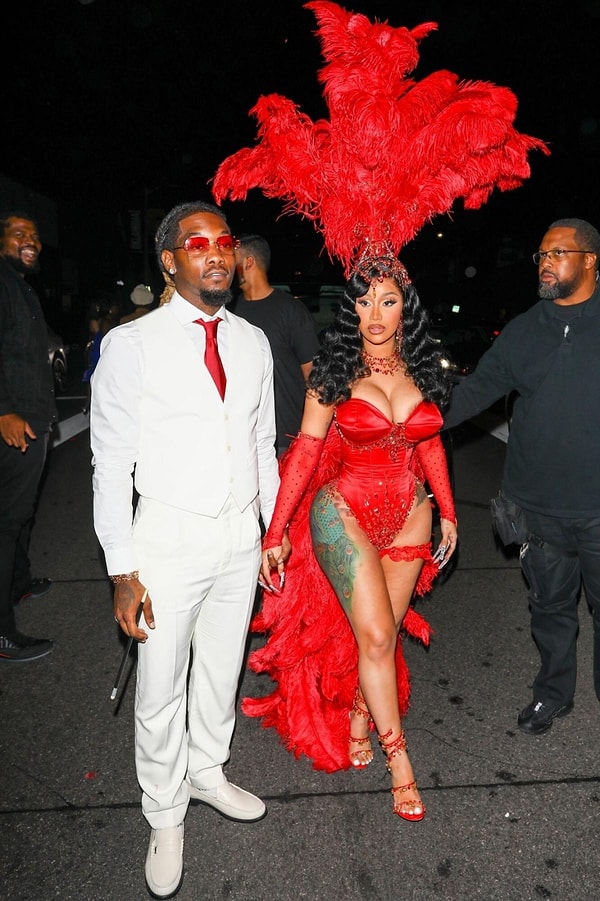 The 'UP' rapper has recently celebrated her 30th birthday in style with a cabaret themed party in Los Angeles.
Cardi B appeared at the extravagant party in a stunning red dress, completed by a feathered headpiece.
Among those in attendance at the celebration were Chance the Rapper, Halle Bailey and Karreuche along with Cardi's husband Offset, of Migos fame.
Beyonce sent the Queens rapper a bouquet of white roses on her birthday, according to a post made by Cardi B on Instagram.
"Oh yeah bitch cause motherfucking Beyoncé sent me some motherfucking flowers," she posted in celebration.
Scroll Down for Comments and Reactions