News
Cardi B And Nicki Minaj's Beef: 4 Years in and They're Still at Each Other's Throats
Cardi B And Nicki Minaj's Beef: 4 Years in and They're Still at Each Other's Throats
The American female rap scene used to be dominated by one artist: Nicki Minaj. Nicki Minaj maintained her reign as the most prominent female rapper in the USA (and arguably the world) for over eight years. However, things have dramatically changed in recent years. When Cardi B swung into the limelight with the hit single 'Bodak Yellow' in 2017, Nicki Minaj's claim to the title of the most prominent female rapper in the USA has been questioned often.
Since Cardi B's emergence, other female rappers like Megan Thee Stallion, Doja Cat, and Latto have also become a part of the conversation. As is often the case in the music industry, when artists are often compared to each other, it sparks a rivalry that leads to unfriendliness and lots of public insults. Hence, Nicki Minaj and Cardi B have never really been friendly toward each other, as they continue to compete for the number one female rapper spot.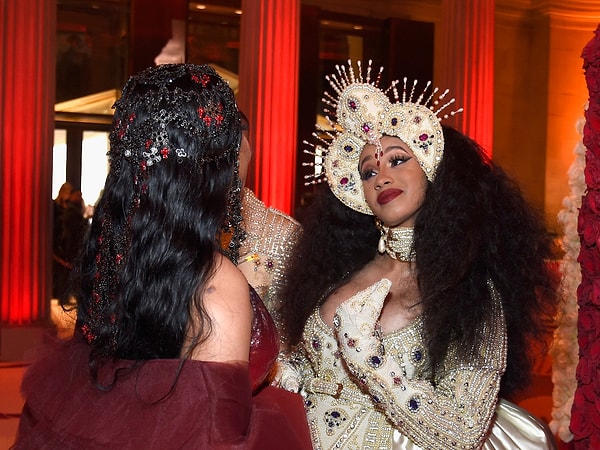 Genesis of The Feud
Given Cardi B's sudden rise to stardom, tensions between the pair were not surprising since Nicki Minaj had stayed at the top of the female rap scene for a long time and Cardi was a promising contender. However, things began to escalate in late 2018 when major news outlets reported that both rappers got into a physical fight at the New York Fashion Week Party. The reality of these reports dawned on many viewers when pictures of a bruised Cardi B were subsequently released. According to reports, Cardi B was furious that Nicki Minaj had allegedly questioned her motherhood skills.
However, the brawl at the New York Fashion Week was only a product of months of tension between both rappers. When Nicki Minaj and Cardi B collaborated with the Migos on 'Motorsport' in early 2018, Cardi B reportedly stated that Nicki Minaj had changed her verse. In a subsequent interview, Nicki Minaj expressed how much this statement hurt her. Since then, both rappers have been locked in a feud.
The feud peaked when Nicki Minaj went on Queen Radio to directly pick a quarrel with Cardi B, insinuating that the latter's career was built off sympathy and paid streams. Cardi B responded to Nicki's diss by posting a series of Instagram videos and pictures clarifying that she had worked hard on her career and her music was doing more numbers. However, things simmered down in the latter months of 2018.
Still Beefing in 2022
The Nicki-Cardi feud seems to have been reignited in recent months. In late August, Cardi posted a tweet urging fans to "Go Stream" a new Bella Porch project she appeared in. Nicki Minaj's fanbase misunderstood Cardi's tweet and assumed Cardi was asking them to stream Nicki's most recent single, 'Super Freaky Girl.' Nicki Minaj replied in no time with a now-deleted tweet that stated:
Imagine telling da Barbz to "go stream" then they break a whole Spotify record chi- LMFAOOOOOOO highest 1st day streams for a female rap song in HISTORY or sum like that. I wanna first thank God, papa, my glam team, my…
The feud further continued earlier this month when one of Nicki Minaj's fans tweeted that Kyle from The Neighborhood Talk had posted a snippet of Nicki Minaj's comment on Garcelle Beauvais as bait for the star to be dragged.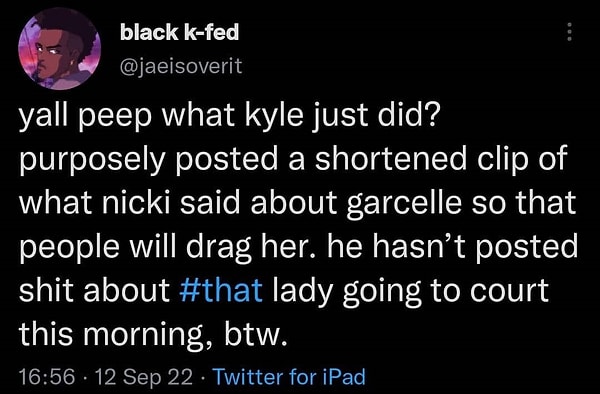 Nicki subsequently replied the fan with a tweet stating:
Has he posted anything about btchs making fun of someone's house burning down? I had his a** on my show and barbz r the one that got his site popping. Stop going on that shit. Report & move on. And I haven't seen his site today but I'm just saying
This tweet insinuated that Kyle was constantly taking hits at her while keeping quiet about Cardi B making fun of a house burning down. Nicki seemed to be referencing an earlier Cardi B tweet where the rapper posted pictures of a troll's burnt house.
Days ago, Cardi B got into a Twitter fight with Akbar V, a female rapper who recently collaborated on Nicki Minaj's 'Queen Mix.' The Twitter fight started when Cardi B posted about taking care of her kids, and Akbar V clapped back, suggesting that Cardi B forgot her kids when she got rich. Afterwards, Cardi B posted a video encouraging more people to stream her new single with Glorilla, 'Tomorrow 2'. However, Nicki Minaj came into the picture when she posted a tweet that suggested she was taking a hit at Cardi B's looks in the Tomorrow 2 music video.

Cardi B subsequently sent out a tweet that seemed like a clap back.
Twitter users have since suggested that Cardi B was referencing some unedited pictures of Nicki Minaj.
While the subtle feud between Cardi B and Nicki Minaj will likely continue in the coming years, some fans have expressed their desire for collaboration between the rappers. Whether this desire will be fulfilled is only left to see.
Scroll Down for Comments and Reactions