Boots Riley's 'Sorry to Bother You' is Coming to Netflix in March 2022
News
>
Boots Riley's 'Sorry to Bother You' is Coming to Netflix in March 2022
'Sorry to Bother You' is a 2018 fantasy comedy film about a young black salesperson, Cassius "Cash" Green, who attempts to thrive by adopting a white accent. He is sucked into a corporate scheme and must choose between profit and organizing labor with his activist comrades.
The film stars Lakeith Stanfield, a black American and a musician. He made his feature film debut in "Short Term 12" in 2013 for which he was nominated for the independent Spirit Award. He has also received recognition for his other films.
'Sorry to Bother You' Release Date
The film is marked to deliver on March 1st alongside a bunch of movies and series to be released as per Netflix's announcement.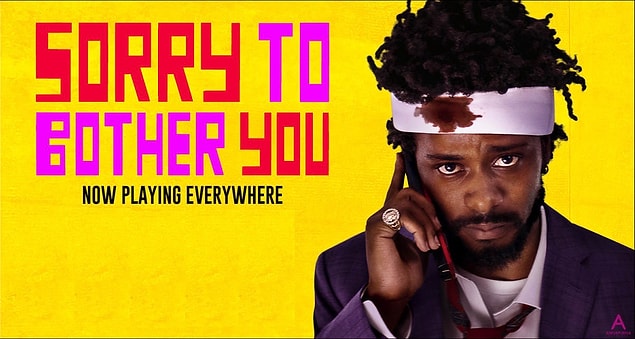 'Sorry to Bother You' Plot Summary
Cassius Green obtains a telemarketing job in a parallel version of Oakland and finds the commission-paying work a dispiriting battle as a black man selling to primarily white people over the phone.
When a veteran tells him to use his 'white voice' and the attitude that goes with it to make himself more appealing to clients, everything changes. Even when his coworkers organize a union to improve their awful jobs, Cassius becomes a success with an oddly high-pitched accent.
Regardless, Cassius is promoted to 'Power Caller,' selling the most morally reprehensible but lucrative items and services, as his relationship with his fiancée and coworkers deteriorates.
Cassius' conscience, on the other hand, is reawakened when he finds himself in the thick of his boss' weird world of condescending bigoted opulence and his diabolical aspirations to build the ideal submissive labor force with Cassius' assistance.
'Sorry to Bother You' Trailer
The official trailer of 'Sorry to Bother You' is already available on Youtube. You may also access it here below.
Sorry To Bother You - Official Trailer
'Sorry to Bother You' Cast Ensemble
The film stars Lakeith Stanfield, Tessa Thompson, Jermaine Fowler, Omari Hardwick, Terry Crews, Patton Oswalt, David Cross, Danny Glover, Steven Yeun, and Armie Hammer.
'Sorry to Bother You' Showrunners
Boots Riley's directorial debut, 'Sorry to Bother You,' is a 2018 American surrealist black comedy film written and directed by him. It's distributed by Universal Pictures.
'Sorry to Bother You' Production Details
In June 2017, principal photography began in Oakland. 'Sorry to Bother You' had its world premiere at the Sundance Film Festival on January 20, 2018, and was distributed theatrically in the United States by Annapurna Pictures through Mirror Releasing on July 6, 2018. Riley's writing and direction earned critical accolades, as did the film's actors, ideas, and soundtrack.
Are you excited for the coming of 'Sorry to Bother You' on Netflix on March 1st? Let us know in the comment section below.