News
'Bad Sisters' Season One Gets an Apple TV + Release Date
'Bad Sisters' Season One Gets an Apple TV + Release Date
Summer is almost over, and Apple TV+ is here to create an everlasting moment with its newest series, Bad Sisters, scheduled to land this August. The dark comedy thriller originates from Sharon Horgan's book Catastrophe; Sharon will also appear in the series. 
Bad Sisters is grounded on a Flemish TV series, Clan, which was broadcasted in Belgium in 2021 with Malin-Sarah Gozin as the writer and Nathalie Basteyns and Kaat Beels as the directors. 
The new Apple TV+ adaptation also acknowledges Gozin as one of the writers, alongside Dave Finkel, Clelia Mountford, Michael Sagol, Bert Hamelinck, Karen Cogan, Perrie Balthazar, Brett Baer, and Sharon Horgan.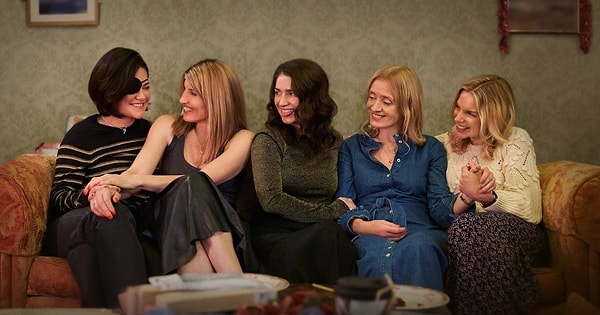 What's 'Bad Sisters' About?
Bad Sisters blends thriller and dark humor to bring out the best of five sisters, Becka, Bibi, Eva, Ursula, and Grace. They find themselves in a messy situation after a family calamity that tests their connection. After their parent's mysterious death, the siblings had to support each other, including an attempt to get one of them out of a toxic marriage. 
Abruptly, the sister's brother-in-law dies, and an investigation begins to determine the killer. Everyone appears innocent; the girls' unity and concern for each other make it even hard to suspect them. They're willing to go beyond borders to keep themselves out of this case, even if it leads to disasters. 
The Bad Sisters story is set between Dublin and London, giving it the perfect setting for a family story with the tension and thrill the fans want. Other filming locations include the outskirts of London, such as Belfast, Malahide, Howth, the Forty Foot, and Sandycove. 
The trailer from Apple TV Plus' starts with a funeral and mourning, and the story begins. About maintaining suspense, Bad Sisters never slept on the job.
Who Plays who in 'Bad Sisters'?
Horgan incorporated herself as Eva alongside several other talents from Eve Hewson (Becka), Sarah Greene (Bibi), Eve Birthistle (Ursula Flynn), and Anne-Marie Duff (Grace Williams) making the five Garvey sisters. 
Other characters include Assaad Bouab (Gabriel), Daryl McCormack (Matthew Claffin), Brian Gleeson (Thomas Claffin), Claes Bang (John Williams), and Saise Quinn.
'Bad Sisters' Release Date
The series launches on Friday, August 19th, with two episodes and a weekly release totalling ten episodes. 
Meanwhile, fans can watch the official trailer as we wait for the big day. The streamer has also taken it to its primary Twitter account to share images and clips for more information regarding Bad Sisters. 
Your summer is ending in style!
Scroll Down for Comments and Reactions