News
'Babylon': Why was it a Box Office Dud?
'Babylon': Why was it a Box Office Dud?
Despite an A-list stellar cast and several award nominations, the critics and audience weren't completely convinced by the film Babylon. 
'Babylon' Storyline & Cast
The drama film, helmed and crafted by renowned filmmaker Damien Chazelle, chronicles the highs and lows of several party players in the 1920s when Hollywood was transitioning from silent to sound production. 
Chazelle, who previously worked on Whiplash (2014), La La Land (2016) and First Man (2018), recruited a star-studded cast consisting of multiple award-winning Brad Pitt and Jean Smart, Margot Robbie, Diego Calva, P.J. Byrne, Tobey Maguire, Jeffrey Garlin, Eric Roberts, Ethan Suplee, Olivia Wilde, Jovan Adepo, Li Jun Li, Lukas Haas and Phoebe Tonkin among others. 
Babylon obtained five nominations at the 80th Golden Globe Awards and nine at the 28th Critics' Choice Awards. 
While other Chazelle productions haven't received many raves except for La La Land, which garnered $400 million on a budget of $30 million, the aptly named Babylon bombed in theaters due to several factors. Let's take a look at some of the reasons why:
'Babylon' Had Stiff Competition at the Box Office
Babylon saw a theatrical premiere on December 23, 2022, merely a week after the highly anticipated Avatar: The Way of Water was released. The latter film is a sequel to the highest-grossing film ever made, which already has a large following, and so it was expected that Avatar would perform exceptionally well week after week since its debut. 
The James Cameron creation has accumulated a whopping $1.558 billion worldwide on a budget of $250 million. Babylon on the other hand, has grossed $13.5 million on an $80 million projection.
'Babylon's Runtime Impacted its Box Office Performance
Babylon has an extensive runtime of 3 hours, which likely hurt its box office returns. The sad fact is that viewers are unlikely to commit to a 3-hour original theatrical film. 
Take Marvel's Avengers: Endgame (2019) as an example. The movie, which also had a 3-hour runtime, was an enormous success, grossing almost $3 billion on a budget of $256 million owing to its large fanbase attached to a record-breaking franchise. 
Babylon isn't attached to a previously successful franchise like the MCU, meaning people are less likely to invest time and money to watch it.
'Babylon' Received Mixed to Negative Reviews
Babylon received mixed criticism reactions after its initial release on November 14, 2022. Since then, the film's reviews haven't been promising, aggregating a 54% critic rating on Rotten Tomatoes, with a slightly less audience score of 51%. 
Here's what the overall critic consensus says, "Babylon's overwhelming muchness is exhausting, but much like the industry it honors, its well-acted, well-crafted glitz and glamour can often be an effective distraction."
The audience echoes, 'Babylon has some entertaining moments, and its ambition is impressive, but the movie's chaotic and disjointed execution makes it difficult to enjoy.'
The negative word-of-mouth against Babylon spread like wildfire, bruising its box office returns. Who would want to pay to watch a chaotic and exhausting film anyway?
The Audience's Growing Disinterest in Original Films
Despite Babylon's incredibly talented cast, the film has little-to-no pull in terms of viewers. As mentioned earlier, audiences are likely to watch a prestige film with no success record, especially if it runs for over the standard 2 hours. 
In its opening weekend, Babylon was estimated to make $12-15 million from 3,342 U.S. cinemas but only accumulated $ 5.3 million. 
The reason for the box office bomb, as offered by Deadline, was the public's decreasing interest in original films, the nationwide effect of Winter Storm Elliot, which hit from December 21 to 26 and the risk of a tripledemic occurrence sparked by a rise in COVID-19 and flu cases. 
Babylon was projected to make $250 million to make up for the $160 million production and promotion budget, but the results were way less than satisfactory.
What Does 'Babylon's Underwhelming Performance Mean?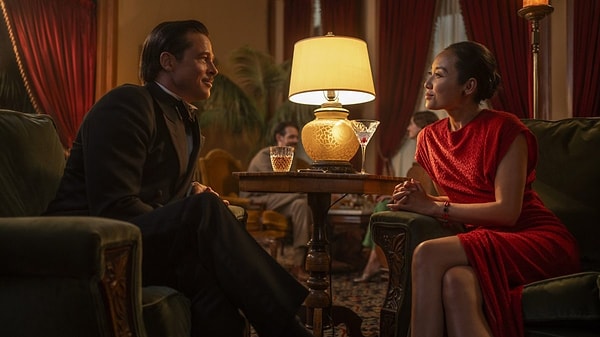 Given favorable circumstances, non-franchise films can be successful. Take Bullet Train, for example, which features A-listers Brad Pitt, Joey King, Sandra Bullock, Aaron Taylor-Johnson, Bad Bunny, David Leitch, Michael Shannon, Hiroyuki Sanada, Zazie Beetz and others. The action thriller was a huge hit, grossing $239 million worldwide on a $90 million budget. 
Sadly, other enthused films of 2022 failed to cut even at the box office, for example, The Whale, starring the comeback Brendan Fraser who only made $8.6 million on a budget of $3 million. 
Amsterdam, also starring Margot Robbie alongside Christian Bale, failed miserably in the cinemas, making $31.2 million on an $80 million budget, and its star cast couldn't save it. The movie featured Taylor Swift, Anya Taylor- Joy, Rami Malek, Robert De Niro, Mike Myers, Zoe Saldaña, Timothy Olyphant, Michael Shannon, Chris Rock, John David Washington, Ed Begley Jr., Tom Irwin and Rebecca Wisocky. 
Babylon could be the last of a dying breed as original films are increasingly becoming less popular, meaning that they see less and less budget. Producers spend more money on films that could become the next biggest franchise.
What Does 'Babylon's Underperformance Mean for Damien Chazelle?
Babylon's below-par returns might impact Chazelle's filmmaking career. It could mean that Chazelle might not be trusted with another high budget in the future. 
However, it may be too soon to give such a harsh judgement given that his musical romance entrée starring Ryan Gosling and Emma Stone was highly praised and well received, scoring 91% on Rotten Tomatoes, 8/10 on IMDb, 94% on Metacritic and 84% on Google Ratings. 
Chazelle's other success, the 2014 drama music film Whiplash scored highly (94% on Rotten Tomatoes, 8.5/10 on IMDb and 93% on Google Ratings). 
Unfortunately, money is the driving force behind movie making, meaning that production companies could be unwilling to give Chazelle a high budget after Babylon's disappointment. 
The filmmaker still has better days ahead of him in TV production. His Netflix musical drama miniseries The Eddy (2020) garnered favorable ratings scoring 69% on Rotten Tomatoes, 7.2/10 on IMDb and 80% on Google Users.
What's your take on non-franchise movies? Will they survive in the next decade or slowly die?
Scroll Down for Comments and Reactions