News
American Biopic Sports Drama 'We Are Marshall' Hits Netflix in June 2022
American Biopic Sports Drama 'We Are Marshall' Hits Netflix in June 2022
'We Are Marshall' is a 2006 American biographical sports drama film directed by McG. It depicts the aftermath of a 1970 plane crash that killed 75 people, including 37 Marshall University football players, five coaches, two athletic trainers, the athletic director, 25 boosters, and the five-person aviation crew.
'We Are Marshall' Release Date
'We Are Marshall' is set to release on Netflix on Wednesday, June 1st, 2022.
'We Are Marshall' Trailer
You may view the trailer of 'We Are Marshall' here.
'We Are Marshall' Plot
On the evening of November 14, 1970, Southern Airways Flight 932, a McDonnell Douglas DC-9 chartered by Marshall University to transport the Thundering Herd football team back to Huntington, West Virginia, crashes into a nearby gully after clipping trees on a ridge just one mile short of the runway at Tri-State Airport in Ceredo, West Virginia, killing all 75 people on board.
The 37 players, head coach Rick Tolley and five members of his coaching staff, Charles E. Kautz, Marshall's athletic director, team athletic trainer Jim Schroer and his assistant, Donald Tackett, sports information director and radio play-by-play announcer Gene Morehouse, 25 boosters, and five crew members are among those who died.
Following the tragedy, University President Donald Dedmon considers suspending the football program forever, but is persuaded to reconsider after hearing from Marshall students and Huntington citizens, particularly the few football players who did not make the flight, headed by Nate Ruffin. Despite losing many of their prospects to the West Virginia University Mountaineers, Dedmon recruits Jack Lengyel as head coach, who, with the support of Red Dawson (one of two surviving members of the former coaching staff), rebuilds the squad in a relatively short period. Dedmon travels to Kansas City to petition the NCAA to waive the regulation that prevents freshmen from participating in varsity football (a rule which had been abolished in 1968 for all sports except for football and basketball, and would be permanently abolished for those sports in 1972). Dedmon triumphs once more.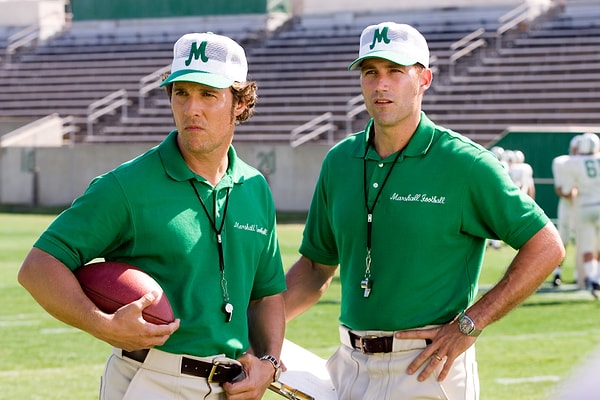 The 18 returning players (three varsity, 15 sophomores) and walk-on athletes from other Marshall sports programs make up the majority of the new team. The 'Young Thundering Herd' loses their first game to the Morehead State Eagles, 29–6, due to their lack of experience. Dawson and Ruffin, who were injured on the first play of the game, are devastated by the loss. The Herd's first win after the crash came in the first home game of the season, a 15–13 triumph over Xavier University. Coach Dawson, who is grieving over the Herd's first win since the crash, remains in the team's locker room hours after the triumph. He walks out to a still-full stadium of Marshall supporters who share his surprise and refuse to leave.
'We Are Marshall' Cast
Matthew McConaughey stars as head coach Jack Lengyel, with Matthew Fox as assistant coach William 'Red' Dawson, David Strathairn as university president Donald Dedmon, and Robert Patrick as ill-fated Marshall head coach Rick Tolley. Then-governor of Georgia Sonny Perdue has a cameo role as an East Carolina University football coach.
Are you looking forward to watching 'We Are Marshall' on Netflix? Please share your opinions in the comment section below.
Scroll Down for Comments and Reactions