Amazon Prime's 'Lord Of The Rings' Show Will be the Most Epic Release of the Year
News
>
Amazon Prime's 'Lord Of The Rings' Show Will be the Most Epic Release of the Year
A new Lord of the Rings TV series is coming to Amazon, and it will be produced by Warner Bros.
The show will be based on J.R.R Tolkien's original novels, but with a new story set before Fellowship of the Ring. 
Tolkien's books have been adapted for the big screen several times before, with Peter Jackson's The Lord of the Rings and The Hobbit trilogies being the most famous (and lucrative).
The new series will follow 'a journey to Middle Earth' as 'new characters [are] created' for a show that will also involve 'awe-inspiring creatures.' So, don't expect to see Frodo and Gandalf -- at least not yet.
It's not clear whether or not this new LOTR series will turn into a franchise in its own right, but it probably will if Amazon has paid $250 million upfront.
Amazon has announced that they are spending $1billion on creating original TV shows and movies, so this is just a small fraction of their content budget. It also indicates Amazon's growing ambition in the global TV market and its desire to challenge Netflix head-on.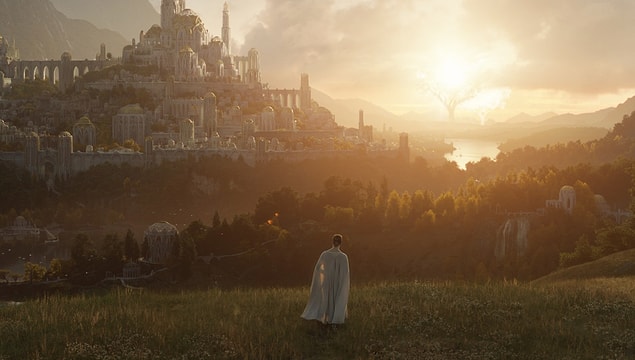 You can now watch the show's new teaser!
Lately, Amazon released a very short teaser which gives you a sense of the scale of where the company is going with this new series. We see a brief glimpse of some kind of sword-fighting action – possibly between orcs and elves? And then there's a hint at the sort of CGI we can expect from this fantasy epic.
There is a lot of positive comments from fans, which is surely a good sign. But if you look at the three RPs in this Rings of Power post, it's clear that a lot of people are also worried about how this show will end up. We'll just have to wait and see how Amazon's new Lord of the Rings adaptation goes.