News
Academy Multi-awardee Al Pacino And The Man With a Thousand Faces Johnny Depp Arrive On Netflix With 'Donnie Brasco' 1997 Movie
Academy Multi-awardee Al Pacino And The Man With a Thousand Faces Johnny Depp Arrive On Netflix With 'Donnie Brasco' 1997 Movie
The academy multi-awarded veteran star  Al Pacino, together with Johnny Depp who is also a multi-awarded artist and is tagged 'a man with a thousand faces' join the league of high-profiled stars in Hollywood on Netflix this February.
These two equally talented and debonair gentlemen lead the 1997 suspense-crime movie 'Donnie Brasco' as it joins the array of films streaming on Netflix coming February 1st.
Donnie Brasco (1997) - Official Trailer
About 'Donnie Brasco'
The movie 'Donnie Brasco' is a biopic which is based on a 1978 book inspired by the real 'Donnie Brasco'' case (its author is still living in the government witness protection program).
'Donnie Brasco' movie is not really about violence or action, it's about friendship.
"Donnie Brasco'' Plot
This true story follows FBI agent Joe Pistone as he penetrates the mafia of New York. he makes friends with Lefty Ruggiero, a MAFIA member. Joe hides his identity under the name Donnie Brasco and is able to immerse himself in a mafia coterie headed by Sonny Black. Lefty and Joe become close as the group goes about collecting money for the bosses.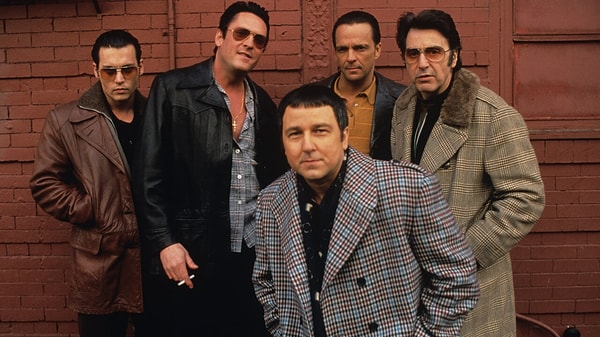 Eventually, the group turns big-time when Sonny Black himself becomes a boss; all the while, Donnie hoards evidence. However, the trials and tribulations of the undercover work become more than Donnie can bear. He's got a problem with his family, and to top it off, the mafia suspects a mole in the organization. Donnie could not turn his back from the group because he was worried that if he does, Lefty's head will roll on the ground.
This crime drama starring Johnny Depp and Al Pacino was nominated for an Academy Award for Best Adapted Screenplay. Mike Newell directs the film, whose biggest hit was 'Four Weddings And A Funeral'.
Are you looking forward to watching this jump-packed action movie 'Donnie Brasco'? Let us know in your comment section.
Scroll Down for Comments and Reactions