News
Who is DJ Khaled's wife, Nicole Tuck?
Who is DJ Khaled's wife, Nicole Tuck?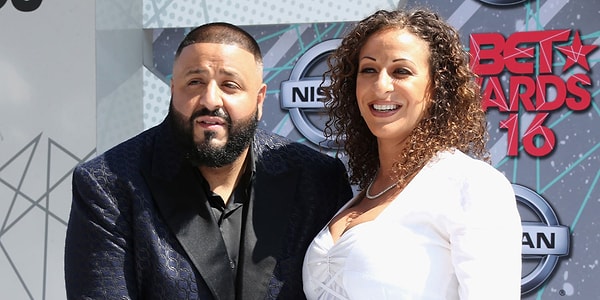 Known for being a prominent singer, songwriter, and record executive and producer, DJ Khaled has been around in the music industry for quite some time. His famous collaborations with various artists paved the way for his career. But aside from being a DJ, what are some other things that we should know about DJ Khaled?
DJ Khaled started as a radio host in the 1990s for the 99 Jamz radio station.

He collaborated with many artists including Snoop Dogg, Justin Bieber, Jay-Z, and Kanye West.

DJ Khaled's wife, Nicole Tuck, is his own music manager.

The couple has two children.
Rise to fame
Khaled Mohammed Khaled or more famously known as "DJ Khaled", started as a radio jock in the 1990s and started gaining traction when he worked as DJ for live performances. After which, he climbed the ladder to fame in 2006 as he released his debut album Listennn... the Album. Slowly but steadily, DJ Khaled then released hit after hit in collaboration with other artists and hasn't stopped since. Here are a few of his club bangers that your must listen to:
"Shining," feat. JAY-Z & Beyonce

"I'm the One," feat. Chance the Rapper, Lil Wayne, Quavo & Justin Bieber

"We Takin' Over," feat. Lil Wayne, T.I., Fat Joe, Birdman and Akon

"Wild Thoughts," feat. Rihanna & Bryson Tiller

"All I Do Is Win," feat. Snoop Dogg, Rick Ross, Ludacris & T-Pain
With multiple hit singles, DJ Khaled is absolutely winning in his career and his personal life. Let us get to know more about his life without the club lights.
DJ Khaled and wife, Nicole Tuck
Reports say that DJ Khaled and his wife, Nicole Tuck, have known each other since the 90s but only started dating in 2003. While DJ Khaled found his fame and fortune in the music industry, Nicole was actually a businesswoman and an entrepreneur.
Nicole Tuck's Upbringings and Business Ventures
Nicole Tuck was born into an affluent family on December 7, 1975 in New Rochelle, New York. She earned her bachelor's degree in fine arts from Marymount Manhattan College in 2003 and finished her master's degree in 2005 at Fordham University.
She was inclined to business so she started her own clothing line in 2010, "Always Be U" or ABU Apparel. Celebrities like Ace Hood, Akon, and his husband became ambassadors for ABU but the business had to shut down in 2012 because of the losses.
Family and fame
In 2016, Nicole gave birth to their first child— an event which was actually live streamed on Snapchat. The couple soon got engaged after the birth of their first child, Asahd. Their second son, Aalam, was born in 2019.
And while Nicole Tuck did not find success in business, it definitely contributed to her social status. At present, she is now the music manager of her husband and a loving wife and mother to their two sons, Asahd and Aalam. And while she generally doesn't share the spotlight with DJ Khaled, still attends red carpet events alongside her famous husband.
Scroll Down for Comments and Reactions