News
WCW Presents 'The Break-Up' (2006) Starring Jennifer Aniston on HBO Max
WCW Presents 'The Break-Up' (2006) Starring Jennifer Aniston on HBO Max
We've all been there, and we know how painful it can be, especially when you try your hardest to make it work. I don't know about you, but The Break-Up is one of the most real Hollywood rom-com films I have ever watched. It delivers just the right amount of relationship sarcasm to keep you engaged.
Storyline
Starring Jennifer Aniston alongside Vince Vaughn, the two play a couple, Brooke Meyers and Gary Grobowski respectively. They meet at a Chicago Cubs game at Wrigley Field and start dating, eventually settling at a condominium that they buy together. Gary is a tour guide at a joint family business alongside his brothers Dennis and Lupus, while Brooke manages an art gallery.
Like every relationship, Brooke and Gary begin to experience hurdles as the former feels unappreciated and starts to criticise her boyfriend for his immaturity and unwillingness to better their relationship. The couple eventually split up, but neither of them is willing to move out of the condo. They continue to live together as roommates while Brooke seeks advice from her sister Addie and Gary does the same with his friend Ostrofski. 
I can't narrate every detail of this heartfelt film, and I'm leaving it up to you to find out what happens to the lovebirds. What had me is the movie's bittersweet ending that leaves the conclusion to your imagination as the two exes meet after a while apart. They exchange pleasantries and walk away but glance back at each other while sharing a smile, hinting that they might get back together after bettering themselves or perhaps form a platonic friendship instead.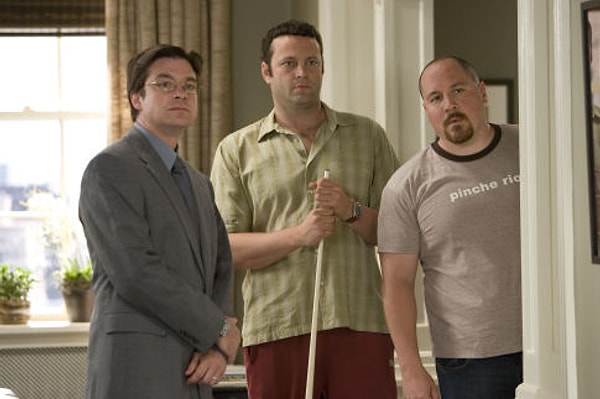 The Break-Up Cast Members
Vaughn produced the film in addition to his lead role. The other actors featured include Jon Favreau as Johnny O, Joey Lauren Adams as Addie, Cole Hauser as Lupus Grobowski, Jason Bateman as Riggleman, Judy Davis as Marilyn Dean, Justin Long as Christopher, Ivan Sergei as Carson Wigham, John Michael Higgins as Richard Meyers, Ann-Margret as Wendy Meyers, Vernon Vaughn as Howard Meyers, Vincent D' Onofrio as Dennis Grobowski, Elaine Robinson as Carol Grobowski, Jane Alderman as Mrs Grobowski, Jacqueline Williams as Shondra, Peter Billingsley as Andrew and Jane Hu as Diane.
Scroll Down for Comments and Reactions