Watch Greg Daniels' Best Show Now: Prime Video's 'Upload'
News
>
Watch Greg Daniels' Best Show Now: Prime Video's 'Upload'
Though it is hard to compete with his success on The Office and Parks and Recreations, Upload is one show from Greg Daniels that should not go under the radar. On March 11, 2022, Prime Video released the sci-fi comedy Upload, starring Robbie Amell and Andy Allo. Though the first season was relatively underreported since it came out in 2020 near the start of the global pandemic, Upload received critical acclaim and favorable reception from audiences. Season 2 has thankfully received more attention and marketing from Amazon, with the abridged season getting prominent advertisements on the Prime Video website and app.
Plot & Background of 'Upload'
In the not-too-distant future, people can pay a hefty fee for their loved ones to upload them into an idyllic digital world after they die. When low-level computer programmer Nathan unexpectedly dies before his time, his rich girlfriend Ingrid uploads him to the best virtual world available, controlling every aspect of his afterlife from the real world. Though he has trouble adjusting to his sudden new life and Ingrid's possessiveness, he befriends his handler and another resident who help him make the best of his situation.
Greg Daniels will always be best known for developing the popular show The Office based on Ricky Gervais' and Stephen Merchant's series of the same name. King of the Hill, Parks and Recreation, and Space Force were all created with other collaborators, so Upload is Daniels' first show where he is the sole-credited creator. The prolific television writer also wrote for Saturday Night Live for three seasons and wrote eight episodes of The Simpsons.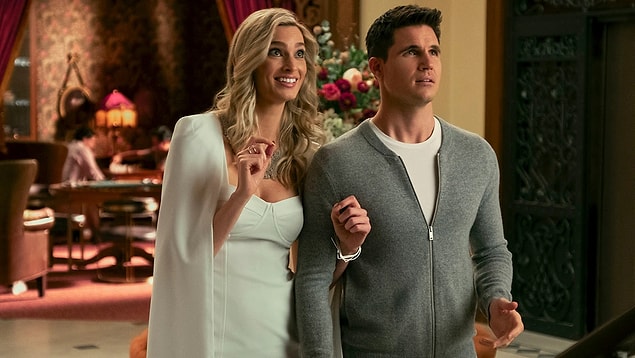 Cast of 'Upload'
Robbie Amell - Nathan
Andy Allo - Nora, Nathan's handler
Allegra Edwards - Ingrid
Kevin Bigley - Luke, Nathan's friend
Zainab Johnson - Aleesha, Nora's coworker
Where To Watch Season 2