News
TV Legend Mario Lopez Hosts the Fourth Season of 'Too Hot to Handle'
TV Legend Mario Lopez Hosts the Fourth Season of 'Too Hot to Handle'
Too Hot to Handle season four is here, and Netflix fans cannot keep calm over it. Too Hot to Handle launched its first season in April 2020, followed by seasons two and three in June 2021 and January 2022, respectively.
The reality show received its order for season four in February 2022, soon after its predecessor was completed, alongside a December launch date. Too Hot to Handle has, over the past three seasons, managed a 32% audience score on Rotten Tomatoes (supported by a 36% Tomatometer) and 4.7 out of 10 stars on IMDb.
What's 'Too Hot to Handle' Season Four About?
The previous season left so much on a cliffhanger, with the steamiest snowy vacation ever. From strict rules and regulations regarding sexual contacts to friendships and the grand prize, season three was the real deal, maybe because the fourth one hadn't arrived yet. 
The upcoming season has more in store for the fans, with a group of ten young contestants from across the world uniting in the Caribbean for new experiences. The contestants must keep their hands off each other, as part of the competition's rules and regulations, while keeping their hopes high on the vast cash prize.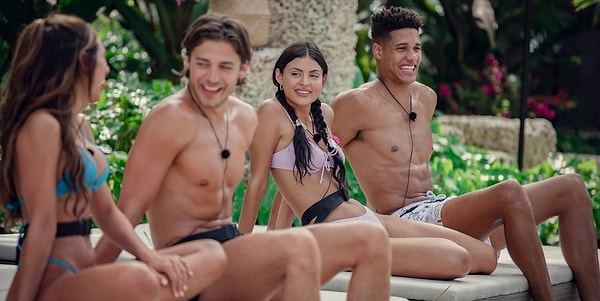 Has Netflix Released the Trailer for 'Too Hot to Handle' Season Four?
Yes. The official trailer for Too Hot to Handle season four landed on Netflix's main YouTube Channel approximately three weeks ago. 
The 1-minute and 11 seconds trailer is quite promising in terms of fun, attractiveness, drama, and new faces. You cannot afford to miss the wild love when the season officially launches.
Who Creates 'Too Hot to Handle'?
Charlie Bennett and Laura Gibson create Too Hot to Handle for Talkback and Thames production companies. 
The show's chief producers are Leon Wilson, Ed Sleeman, Jonno Richards, and Viki Kolar. The upcoming season is shot exclusively in the Turks and Caicos islands.
Who are the Contestants for 'Too Hot to Handle' Season Four?
The upcoming instalment boasts loads of new faces and actions from Sophie aged 22 from Brighton, UK; Seb aged 24 from Glasgow, UK; Nigel aged 29 from New Jersey, USA; Nick aged 28 from Michigan, USA; Kayla aged 22 from Los Angeles, USA; Jawahir aged 22 from Amsterdam, Netherlands; and James aged 23 from Hawaii, USA. 
Other contestants include Dominique aged 23 from Colorado, USA; Creed aged 24 from Perth, Australia; and Brittan aged 22 from Hawaii, USA.
When is 'Too Hot to Handle' Season Four Launching?
Too Hot to Handle season four will arrive on Wednesday, December 7th, with the first five episodes followed by five more on December 14th.
Scroll Down for Comments and Reactions