News
'The Watcher': Did Naomi Watts and Bobby Cannavale Reach Out To The Real Couple When Preparing For Their Roles?
'The Watcher': Did Naomi Watts and Bobby Cannavale Reach Out To The Real Couple When Preparing For Their Roles?
The Watcher, Ryan Murphy's recent biographical miniseries, has been stirring the audience since its release on October 13 2022. The show continues to rack up the numbers on Netflix, accumulating 125 million viewership hours in its first five-day run, dethroning another Murphy masterpiece, Monster: The Jeffrey Dahmer Story, which topped Netflix's most-watched TV series for three weeks. 
The Watcher, starring Naomi Watts and Bobby Cannavale, has made it into the streamer's top 10 in 90 countries.
As fans seek more deets regarding this horror thriller creation, they wonder whether Watts and Cannavale reached out to the couple in question as they prepped for their roles. 
Well, we have the answer in store for you.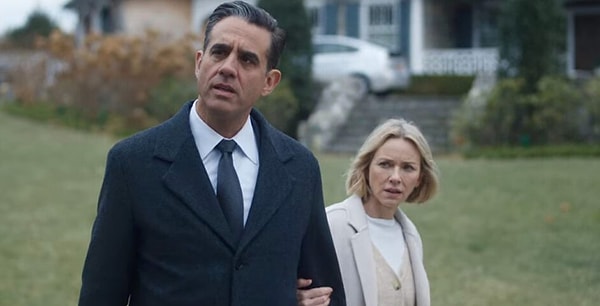 What is 'The Watcher' About?
The Watcher sees the Brannock family move into their newly renovated New Jersey home, only for their fairy tale to be tarnished by a mysterious stalker who keeps sending ominous letters bearing sinister threats. 
The 7-episode series is based on a 2018 article published in The Cut Magazine about the Broadduses, a family that relocated to their dream home in New Jersey, only to start getting threatening letters from an anonymous sender, who called themselves The Watcher.
While The Watcher draws from actual events, Ryan Murphy blended in fictional elements as well. For example, The Broaddus family had three kids, while the equivalent Brannocks had two.
Who Stars in 'The Watcher'?
British actress Naomi Watts stars as Nora Brannock, while Booby Cannavale, Will & Grace alum, plays her husband, Dean Brannock.
Joining them are Luke David Blumm and Isabel Gravitt, who portray their children Carter and Ellie Brannock. The White Lotus star Jennifer Coolidge also features as Karen Calhoun.
The cast is rounded up by Margo Martindale as Mo, Richard Kind as Mitch, Christopher McDonald as Detective Rourke Chamberland, Noma Dumezweni as Theodora Birch, Mia Farrow as Pearl, Terry Kinney as Jasper, Joe Mantello as John Graff, Michael Nouri as Roger Kaplan, Seth Gabel as Andrew Pierce, H. Hunter Hall as Dakota among others.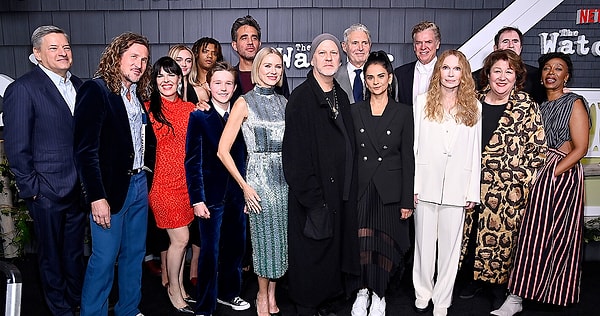 Did Naomi Watts and Bobby Cannavale Contact The Broaddus Couple?
Watts and Cannavale offer some info on The Hollywood Reporter on how they prepped for their roles, including whether they contacted the recipients of the spooky real-life story. 
'The story was already widely known. After reading the article and going through the scripts, I had all the information so we didn't see the need to reach out to the real people,' Watts commented. 
"In our case, The Broadduses weren't famously known, so it's not like the viewers are going to say, 'she's not walking like her, or he's not speaking like her,'' she added.
Cannavale voiced a similar opinion, saying that he preferred to work solely with Ryan Murphy's depiction of the story than with the actual characters themselves. 'I didn't try to contact Derek Broaddus,' he said. 'I'm not entirely playing him. The story may be based on the Broaddus family, but it's a Ryan Murphy creation.'
The actor, who recently starred in the biopic film, Blonde, further echoed that he worked closely with Murphy to explore his character. 'The kind of themes Ryan Murphy is trying to delve into surpass the actual story of what happened at that house," he said.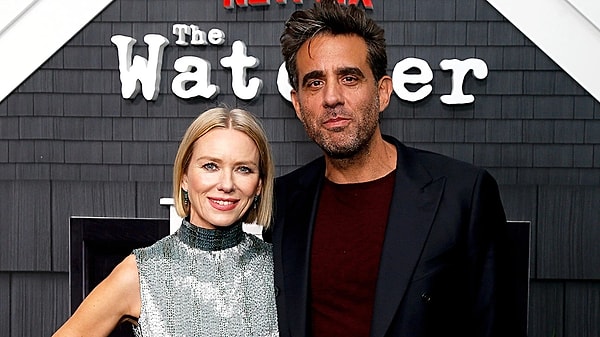 Bobby Cannavale Experienced a 'Similar' Event to The Watcher
Though Cannavale confessed his experience wasn't nearly as terrifying as The Watcher event, he had a similar incident a couple of years ago to fall back on.
He narrated, 'Two years ago, I got a letter on our backyard terrace. It was written in child-like handwriting saying 'if you keep the noise up, you're going to have a problem.' I was freaked out!'
"I didn't inform Rose (Rose Byrne, Cannavale's partner) about the letter because I was debating what to do- do I go to somebody? What the hell is this? If I tell Rose, she'll freak out and definitely want to move. So, I struggled with it mentally,' he continued. 
Bobby was later relieved to discover that the letter was a prank from their neighbour's child. 
"Long story short, it turned out to be the neighbour's kid who played the prank. Though we cleared it up, I still had that lingering feeling, 'Does somebody know where we live?' For a brief moment, I was still a little freaked out.'
He further indicated that the feeling of losing control was unbearable.
Scroll Down for Comments and Reactions