News
The Other Side of the Story: Ill Intentions of "Blonde" Toward the Icon, Marilyn Monroe
The Other Side of the Story: Ill Intentions of "Blonde" Toward the Icon, Marilyn Monroe
The movie Blonde is an adapted film from the book that goes by the same title and is made up of tragedies that its female protagonist has experienced during her life, from beginning to end. 
However, the author of the book, Joyce Carol Oates, made a huge step in fictionalizing the life of Marilyn Monroe, recklessly making the iconic Monroe's private life seem unpleasant.
For some, it is an outright insult to someone who can't even be here to protect herself. 
To know more about why the film Blonde has been receiving backlash since the day it started airing on Netflix, read more below.
A Work of Fiction or Deliberate Ill Intention?
While the Blonde novel author Joyce Carol Oates made sure to clear out that the movie is a work of fiction and even started with an opening message that said,
'Blonde is a work of fiction. While many of the characters portrayed here have some counterparts in the life and times of Marilyn Monroe, the characterizations and incidents presented are the product of the author's imagination. Accordingly, Blonde should be read solely as a work of fiction, not as a biography of Marilyn Monroe.'
This fair warning at the novel's start has undoubtedly created
a wrong narrative about the iconic Marilyn Monroe. Moreover, the movie went beyond the boundary by including graphic and hideous adaptations that did not even happen in real life but only in the author and director's minds.
Truth Be Told
Many have extended their frustrations as the movie carelessly exploits the image of a woman who can not even protect herself and make a statement about what's factual and untrue.
One of the good things is that there are devoted Monroe fans who are committed to letting the truth be known by recommending books that tell the truth, such as the following:
Norma Jeane (First Edition) by Fred Lawrence Guiles

Marilyn Monroe by Maurice Zolotow

Marilyn Monroe: Private and Undisclosed, The Girl, and When Marilyn Met the Queen, all by author Michelle Morgan.

Icon: The Life, Times, and Films of Marilyn Monroe: Volumes 1 and 2, by author Gary Vitacco-Robles.
There is no reason to create a distorted view of the person's biography, as it is not your story to tell. Though they intended the film to be a work of fiction, the weight of the movie still lies at the expense of Monroe's image.
The Marilyn Monroe Distortion
Monroe is known as an icon; the film has created mass confusion about how they have misrepresented her. This deliberate biography distortion has created backlash amongst those primarily involved, the novel's author and film's director.
Although there are no heirs to defend Marilyn Monroe, the good thing is that there are devoted fans committed to holding the Blonde novel's author and film director accountable.
Facts Vs. Fiction in the Movie 'Blonde'
The distortion of Monroe's biography has undoubtedly made a huge cinematic disaster, all caused by the unreal and fictitious events depicted in the film.
Listed below is the fiction represented in the film versus the facts that happened in Monroe's private life:
Norma Jeane is Drowned by Her Mother - FICTION
Though the Blonde film depicted this grotesque scene, there are still no pieces of evidence that Gladys Pearl Baker tried to drown Norma Jeane (Marilyn Monroe) in a bathtub as a kid.
However, the book Marilyn Monroe: The Final Years by Keith Badman says that in a 1968 BBC interview, Arthur Miller, Monroe's third husband, claimed that the late wife had informed him her mother had threatened her life three times.
Marilyn's Mother Suffered from Mental Health Issues - FACT
The film depicted Gladys suffering from mental health concerns. This representation was true, as Monroe's mother was institutionalized during her adult years.
However, Marilyn did not spend her entire childhood with her mother but with foster families, including a short stay at Hollygrove orphanage in Los Angeles. To keep away from returning to the orphanage, Marilyn married James Dougherty at the age of 16.
[Trigger Warning] Rape - FICTION
There is no concrete evidence that Marilyn Monroe has accused Darryl Zanuck, an American film producer, of rape. Furthermore, the actress has never exposed such an act in public.
[Trigger Warning] Physical Abuse - NO CONCRETE STATEMENTS
While the film portrays Marilyn's second husband, Joe DiMaggio, as a physically abusive husband, these claims are yet still to be confirmed by concrete evidence.
Additionally, there are inconsistent reports regarding this matter since neither of the two has released a public statement. Still, some of Monroe's closest friends asserted that Marilyn had bruises while marrying DiMaggio.
Even Monroe's Makeup artist Allan WhiteySnyder and hairstylist Gladys Whitten both claimed the bruises needed to be covered with makeup.
[Trigger Warning] Abortion - NO CONCRETE STATEMENTS
Despite being depicted in the film as having an abortion, there is no clear evidence that Monroe had one.
Many also doubt it, as having children is said to be one of Monroe's dreams. She and her third husband were expecting twice during their marriage.
Instead of abortion, Monroe was reported to experience three miscarriages:
1956 - Some reports claim that Monroe became pregnant immediately after getting married to Miller during The Prince and the Showgirl filming in England. However, these reports have never been confirmed and were also denied by Miller.

1957 - Monroe suffered from an ectopic pregnancy. 

1958 - Monroe was pregnant while filming the movie Some Like it Hot. Unfortunately, the actress miscarried in December 1958.
Throuple - FICTION
One of the most disturbing works of fiction the author created was the sexual relationship between Marilyn, Charlie Chaplin Jr., and Edward G. Robinson Jr., which they called a throuple.
To debunk this fiction, Chaplin Jr. once wrote in his biography that he dated Monroe, but it did not last long. On the other hand, Robinson Jr. and Marilyn did not have any involvement at all.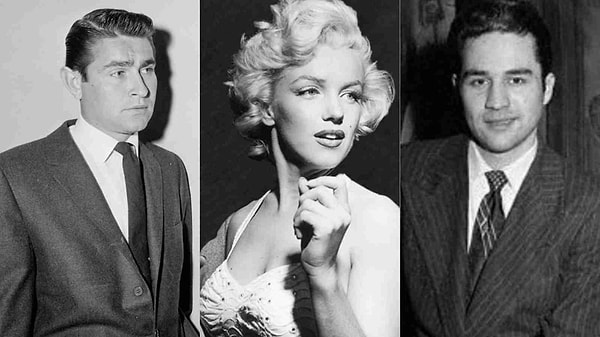 The One That Saved the Film
Although the film received great backlash from critics, and its plot is frowned upon, there is still a good thing that saved the movie from outright downfall, and that is its cinematography.
Another thing is that the costume department seemed to be the only one careful to exactly recreate Marilyn Monroe's outfits.
Though, there are still inaccuracies that fans have pointed out, which include the following:
Armas wore Marilyn's outfit from the 1962 film 'Something's Got to Give,' which depicted that Marilyn was still with Arthur Miller when Monroe and Miller were already divorced in 1961. 

The stylists also made Armas wear a Mexican cardigan while with Miller, an item Marilyn Monroe did not have in her wardrobe until 1962.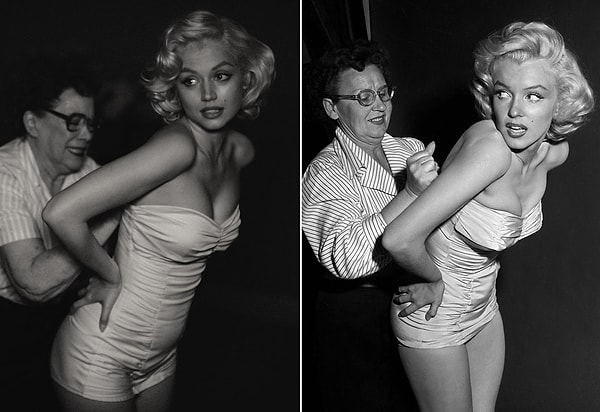 The Disturbing Responsibility of the Film' Blonde'
Although Oates and Dominik made it clear that both the novel and film are works of fiction, the author and the director are both blameworthy for muddying the fine line between fact and fiction.
Because of this, the general public considered the film an accurate biography and was the true story of Marilyn Monroe, which will evermore create an impact on the distortion of the image of the deceased actress.
May this serve as a warning for the general public to think more critically as they digest entertainment like Blonde. For authors who dare to create fiction based on real people, it is always important to prioritize respect first.
Scroll Down for Comments and Reactions